ANIOL SERRASOLSES: THE SPANISH KAYAKER THAT FELL IN LOVE WITH CHILE
By: Chile Travel - 28 August, 2021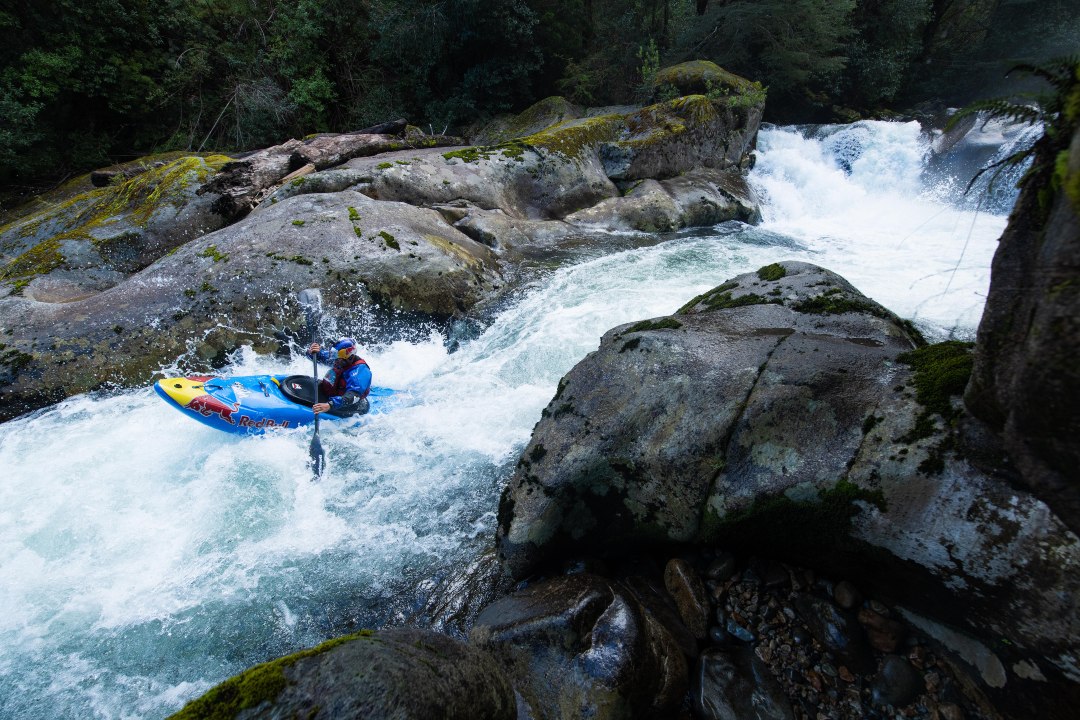 Recognized for his descents and world records in the most challenging rapids in the world, Aniol tells us about his special connection with the rivers of Chile and his decision to live in the south of our country.
His love for kayaking began at a very young age and from that moment on he decided to travel the world to paddle the most challenging and dangerous rivers. Today he is 30 years old and has been to countless countries breaking world records and enjoying what he is most passionate about.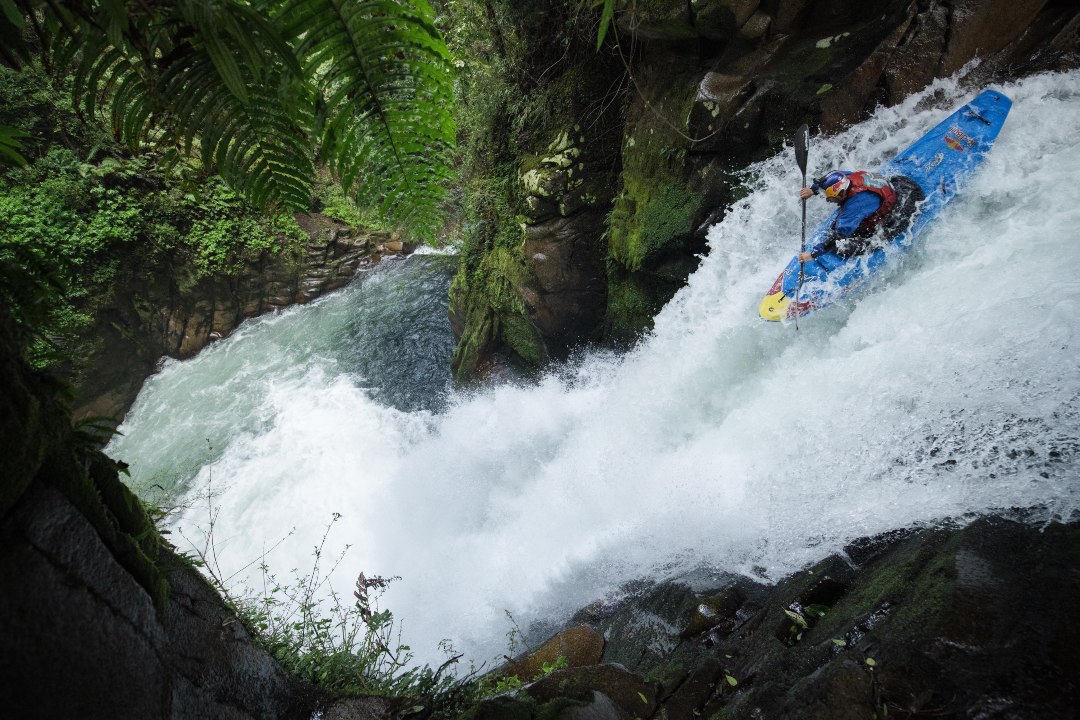 Aniol descending a waterfall
Photo: [Aniol Serrasoles archive]
"Chile is the world's mecca for kayaking enthusiasts"
When he first arrived in Chile, 10 years ago, he was very young and after years of exploits, it can be said that he knows much of our country thanks to his kayaking and love for this sport. From the Maipo River in the north to the Baker River in southern Patagonia, Serrasolses has had the privilege of visiting a large part of the country.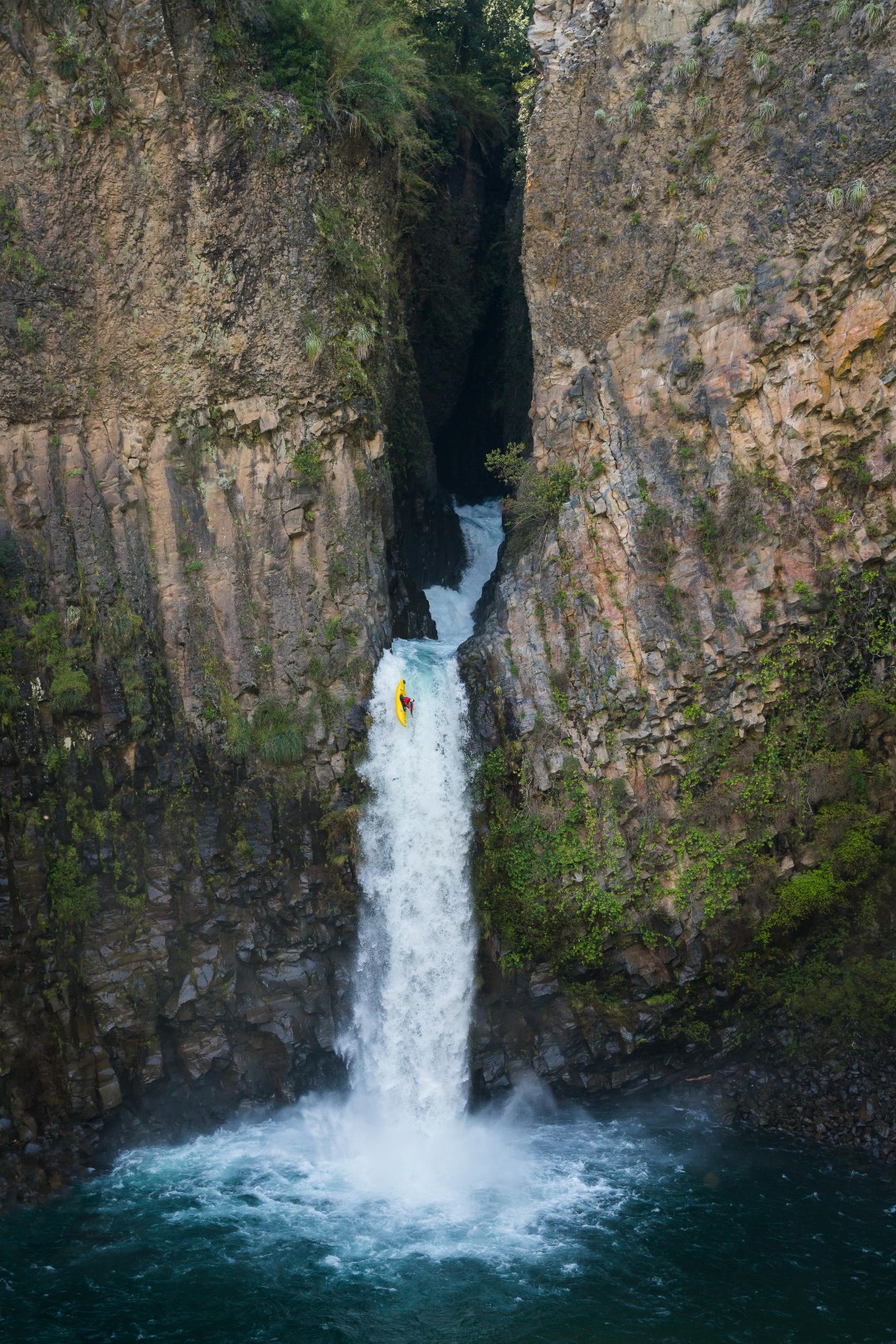 Aniol Serrasolses in the La Leona waterfall, clear river, Maule area.
Photo: [Aniol Serrasoles archive]
At 30 years of age, he is already a great connoisseur of rivers all over the world and affirms that "Chile is the world's mecca for kayaking lovers". He describes our rivers as "wild" and highlights the quality of its waterfalls, the purity of its waters and assures that our country is a unique place in the world and that everything possible must be done to preserve it.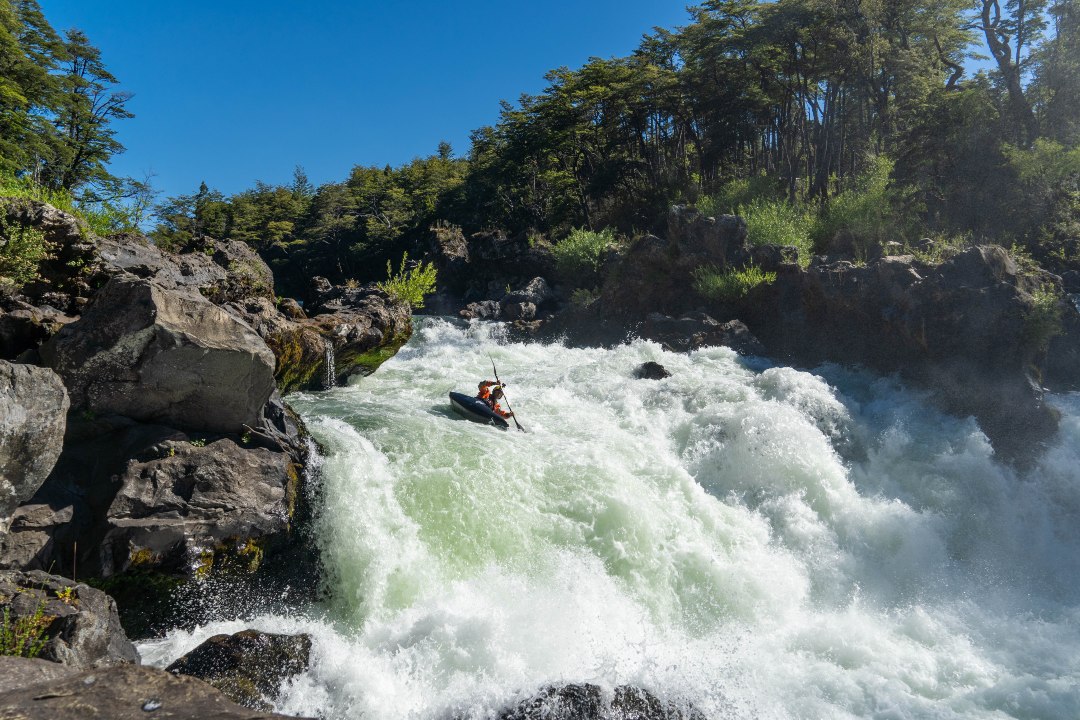 Aniol Serrasolses paddling in the Trancura River, Araucanía, Chile.
Photo: [Aniol Serrasoles archive]
He is also happy for the growth that kayaking has had in Chile in the last 10 years and assures that "here you are very lucky to have many rivers where you can easily train as a kayaker".
Seeking challenges in every river he paddles
Among the world records he has accumulated is the jump of the "Big Banana" waterfall of 42 meters high. A feat he achieved after much experience in the water and his intention to surpass himself. In fact, when asked about the river in Chile that has challenged him the most, he answered "…every river has been special and challenging, but without a doubt the Fuy River in the Los Rios area has meant a before and after in my career as a kayaker. That's where I got my first descent: the 35-meter drop Salto del Puma".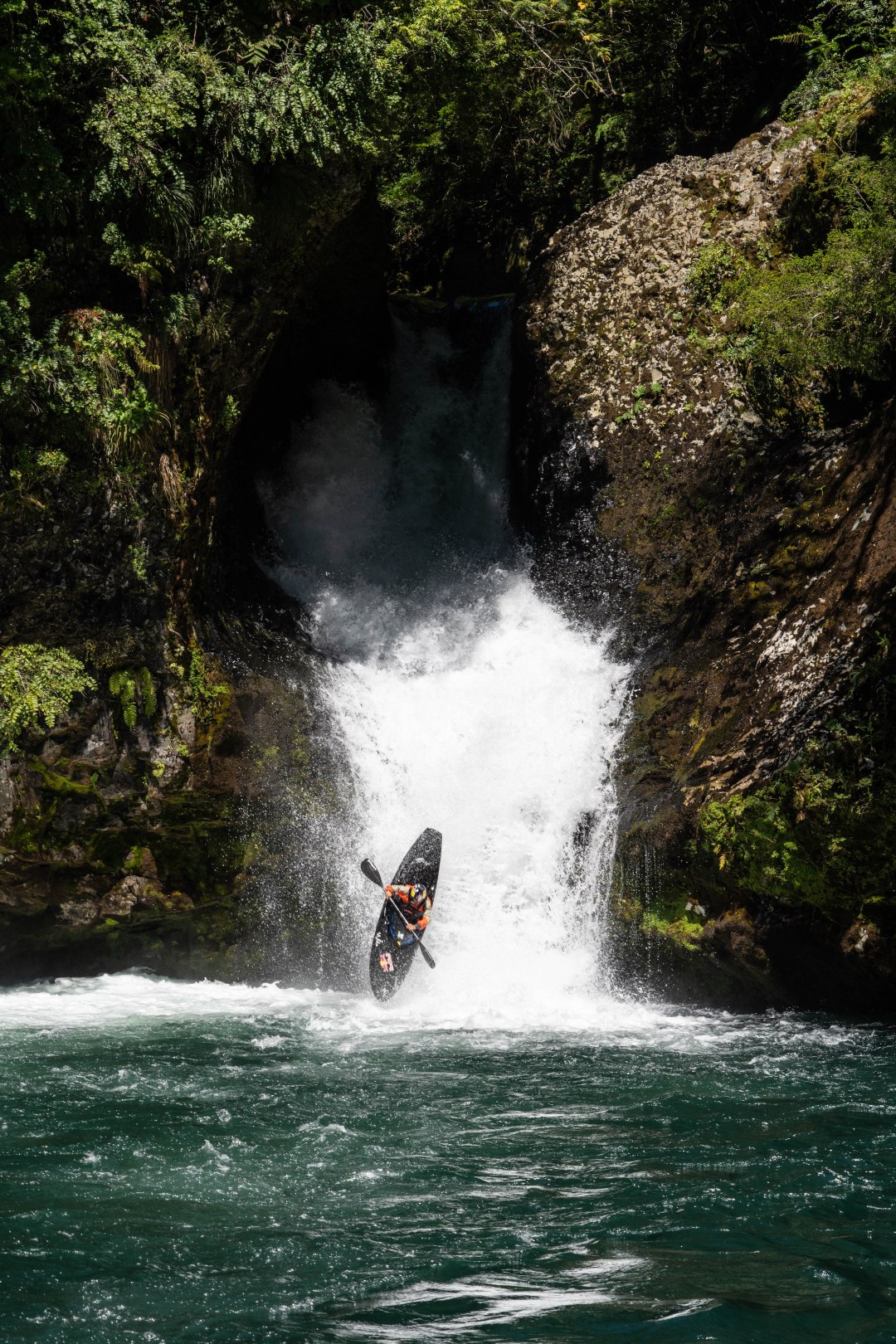 Aniol falling down a waterfall on the Riñinahue River, Valdivia
Photo: [Aniol Serrasolses archive]
And although as the years go by, he becomes more cautious, his thirst and curiosity to know all the possible rivers motivates him to continue studying the maps to see which other one he can paddle. At least here in Chile he still has some feats to accomplish "…I still have so many places to visit… this year I really want to complete an expedition in the south of Chile that I have been planning for years. The river is so difficult that it's on the verge of impossible… so it's going to be a complex project", he assures.
Chile has a lot to offer kayakers
"If I had to choose a river in Chile to kayak, I would always choose the Futaleufu or Baker rivers. I feel I could paddle it all my life and I would never get bored of its rapids and the wonderful surroundings. It is not for nothing that more than 10 years ago, I decided to build a cabin near the banks of this imposing river to settle down and enjoy. I live a quiet life, connected with nature and the river. I really can't ask for more, I am very fortunate".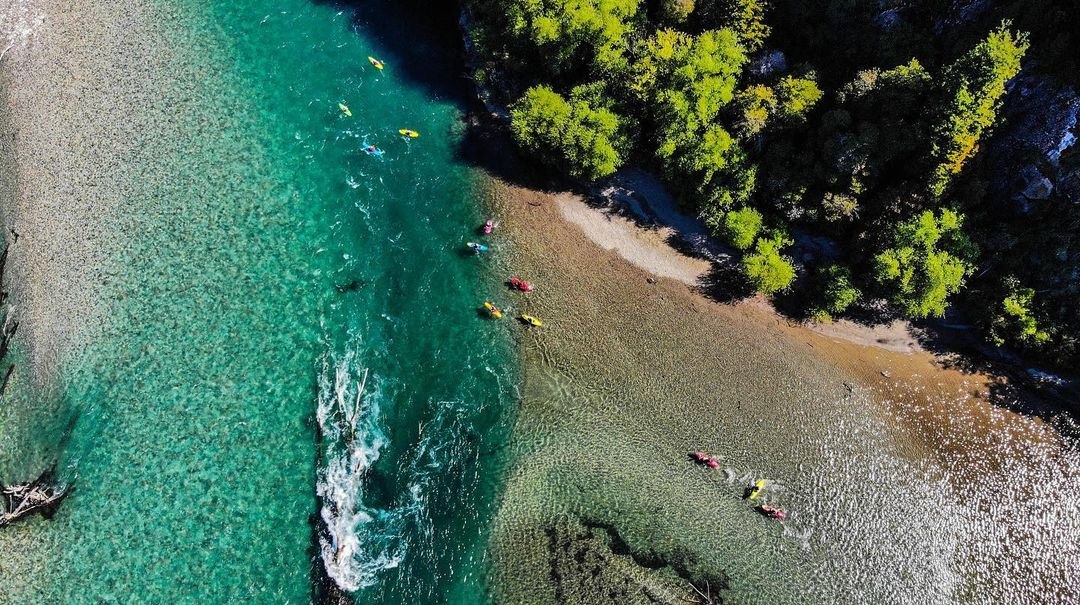 Aniol with other kayakers on the Futaleufú river
Photo:[@aniolserrasoles]
The truth is that it is, because being able to live connected to nature, doing what you love most, must really be perfect.
And finally, we wanted to know his opinion about this sport, particularly in Chile, and what he would say to someone who has not yet decided to practice it, and he answered: "I would tell them that it is a very beautiful sport that transports you to the most remote, spectacular and virgin places on this planet".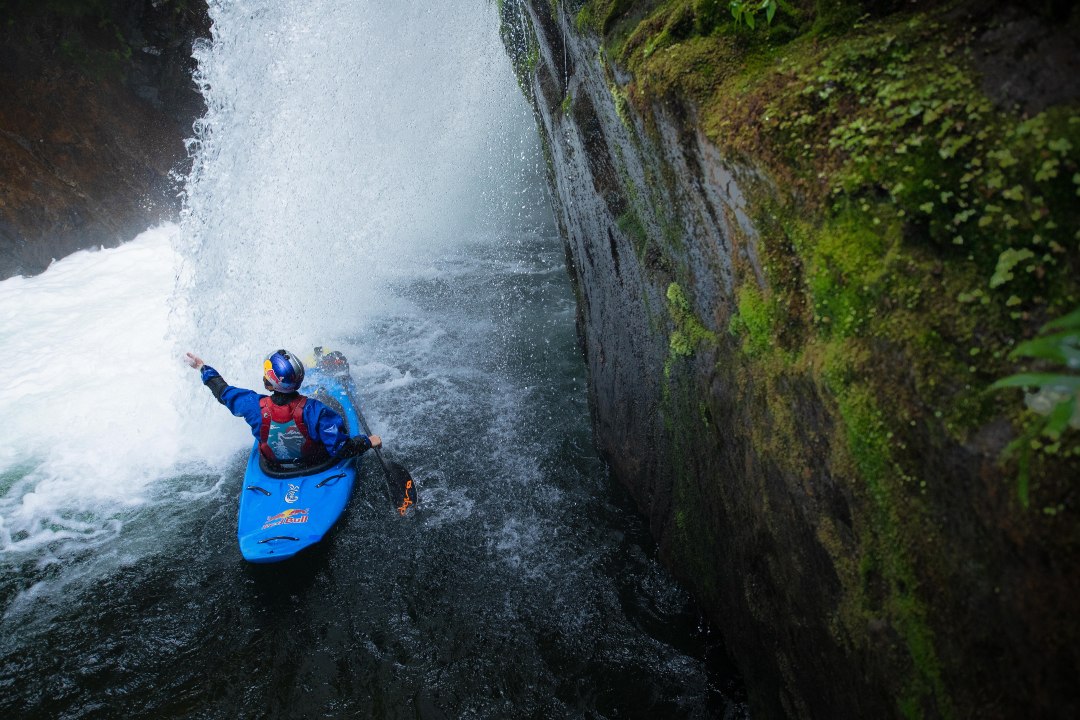 Aniol Serrasolses paddling under a waterfall
Photo: [Archive of Aniol Serrasoles]
And he is absolutely right, there is a reason why this sport brought him to this beautiful country that has so much to offer and that enchants not only those of us who live in it, but also those who are lucky enough to visit its incredible destinations.
---
Articles that may interest you