Wine tours in Chile & Tasting
By: Chile Travel - 28 August, 2021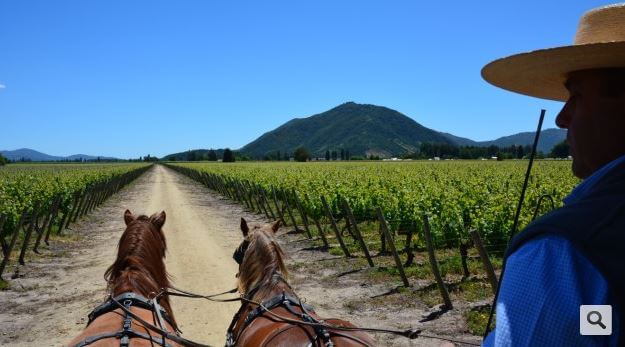 If you are a wine enthusiast and would like to enjoy a fresh take on this fascinating drink, we invite you to discover wine tours in Chile. Grab a glass and explore the wonderful tourist attractions in the beautiful valleys where the vines are grown. From north to south, you will find important vineyards that produce some of the most outstanding wines in the world and that will open your palate to new experiences.
Elqui Valley and Limarí Valley
Located in the Coquimbo Region, 500 kilometers north of Santiago, the Elqui Valley is the northern border of Chile's winemaking territories. One of the main hubs for stargazing and astrotourism, the valley is also renowned for its Cabernet Sauvignon and its production of pisco, a type of grape brandy that is very popular in Chile and one of the best wine tours in Chile. For those interested in learning more about the history of pisco, visit the Los Nichos artisanal distillery and the Capel pisco distillery, where you will be able to prepare cocktails and visit their museum.
The Viña Falernia and Cavas del Valle wineries are open to the public if you would like to learn more about the winemaking process, taste wines, and have lunch at their local restaurants. The Limarí Valley is in a different sector of the Coquimbo Region, characterized by the production of white grapevines and fresh reds due to its mineral-rich terroir. Its Mediterranean climate has a strong sea influence, which favors the production of exquisite wines.
For those who wish to follow some of the best wine routes in northern Chile, there are tours of the Limarí Valley and the mythical El Encanto Valley, to see the remains of pre-Colombian villages. You can also visit many different wineries such as Agua Tierra, Tamaya and Tabalí. The latter offers a guided tour of its facilities, with wine and cheese tasting sessions, and a stop to enjoy a typical lunch in the Chilean countryside.
The tour of the Agua Tierra winery includes music, local cuisine and a party. Finally, Viña Tamaya offers a particular visit to a rural cemetery inside its winery. You may also climb one of the two viewpoints overlooking Mount Tamaya.

Aconcagua Valley
The Aconcagua Valley stands out for its privileged location between Santiago and Valparaíso. This is where Viña Errázuriz is located, one of the world's most renowned wineries and one of the best wine tours in Chile. A visit to this vineyard includes a walk with beautiful views of the valley, century-old wineries and wine tasting. Nearly adjacent to Errázuriz is Von Siebenthal, a traditional winery with sophisticated technology and wines from grapevines such as Merlot, Cabernet Franc, Cabernet Sauvignon, Syrah, Carménère and Petit Verdot.
The Aconcagua Valley also offers other attractions and activities, such as pre-Colombian petroglyphs found in the San Esteban vineyard, visiting the Portillo ski resort, trekking to Mount Aconcagua and kayaking in the Laguna del Inca, home to one of Chile's most moving legends.
Casablanca Valley
Just an hour and a half from Santiago lies the Casablanca Valley, where you will find one of the most outstanding wine tours in Chile, home to a dozen vineyards specially dedicated to serve wine tourism enthusiasts. Apart from wines and tastings, they offer fine cuisine and a wide range of activities. Vineyards such as Santa Rita, Concha y Toro, Santa Emiliana, Santa Carolina and Morandé offer wine tastings, horse-drawn carriage rides and restaurant lunches.
At House of Morandé, a chef makes five-star preparations to marry the wines. Attend organic wine tastings at Viña Emiliana, have lunch at Casas del Bosque and enjoy panoramic views at Viña Indomita. Viña Puro Caballo offers traditional Huaso (Chilean cowboy) and horse shows.
San Antonio Valley
One hour away from the port of San Antonio is one of Chile's newest wine regions: the San Antonio Valley. Its vineyards stand out for the production of fine white wines, yet their reds also boast top quality and flavors. The Casa Marín, Garcés Silva, Leyda and Matetic wineries focus on the production of premium wines, recognized both nationally and abroad.
Visit the wineries of San Antonio during your visit to the Valparaiso region. It is one of the newest wine tours in Chile with state-of-the-art tourism infrastructure.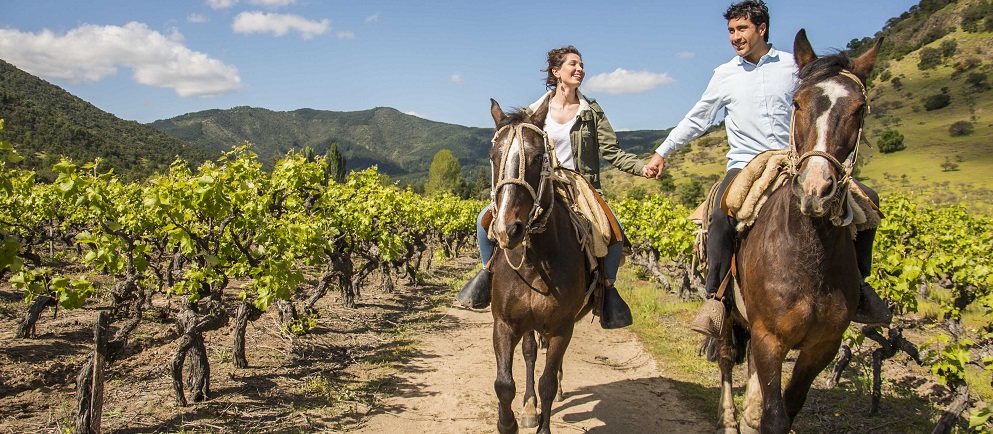 Colchagua and Cachapoal Valley
This is one of the most prestigious valleys in the country, with a wide variety of wine tours in Chile. It is close enough to Santiago that you may want to stay overnight or simply visit during the day. Here you will find two outstanding valleys: Colchagua and Cachapoal, whose wines stand out in world rankings thanks to their varieties of Cabernet, Carménère, Syrah and Malbec.
The Colchagua Valley is undoubtedly one of the best wine routes in Chile and offers more than a dozen wineries open to the public, where you can sample wines, go hiking, participate in culinary demonstrations, ride bicycles and go horseback riding. The Colchagua Valley is ideal for a romantic getaway, and was chosen by Lonely Planet as one of the best places in the world to spend a honeymoon thanks to its beautiful landscapes combined with dreamy hotels and delicious restaurants.
You may also ride the Sabores del Valle ("Flavors of the Valley") train excursion, which takes you to discover the flavors and aromas of the Colchagua Association's vineyard. You will tour the Colchagua Museum, which has a private collection of antique cars as well as objects from several periods in the history of Chile and the rest of the world.
The Santa Cruz Vineyard is a veritable landmark of this area. One of its features is a cable car that goes up to the top of Mount Chamán, where you can admire the constellations at the observatory bearing the same name. The Cachapoal valley offers a number of tourist programs that include tours of the vineyards, their wineries and facilities, as well as bicycle rides, horseback riding and countryside barbecues.
Viña Altair offers a nightly wine tour, the first of the southern cone, which begins with a horseback ride to a viewpoint to appreciate first-hand the fruit and the tasting of Sideral, the vineyard's ultra-premium wine. Alternatively, you can visit the winery during the day. The tour includes a horseback ride to Alto El Aguila, to enjoy a lunch served with wine from Viña Altair.
Maipo Valley
Near Santiago is the Maipo Valley, which houses the main headquarters of Chile's great traditional wineries, such as Concha y Toro, Tarapacá, Carmen, Santa Rita, Cousiño Macul and Barón de Rothschild. Here you can learn about the history of Carménère, a vine of French origin that was thought to be extinct, but was brought back to life in the central valleys of Chile.
You can also visit the Veramonte vineyards, another wine tours in Chile and taste their reserve wines; visit Viña Emiliana, an organic vineyard featuring a garden with farm animals; and explore Viña Catrala, its winery and barrel cellar, tasting their wines and local cheeses. In Santiago, many hotels offer transportation and tours to the Maipo Valley, a must for those visiting the Chilean capital.
Curicó Valley
Early in the 1980's, the Spanish enologist Miguel Torres was a pioneer in numerous storage techniques, bringing about significant developments in the Chilean wine sector and in this valley in particular. It is also home to one of the Chile's largest wineries, Viña San Pedro. Chile's largest harvest festival is held during March and April, with traditional activities such as grape-crushing competitions and the election of the grape harvest queen.
The Curicó Valley Wine Route allows you to visit the many different vineyards in this area and taste renowned wines in underground cellars over a hundred years old.
Maule Valley
This is the Chile's largest valley and one of its oldest. In fact, along with the other wine valleys of the Maule Region, it claims the title of "the cradle of Chilean wine". Its production of this beverage dates back to the time of the Spanish conquerors. Some of the varieties found in this area are Carignan, Cabernet Sauvignon and Malbec.
The Casa Donoso, Carpe Diem and Balduzzi wineries open their doors to visitors and offer lodging services, high quality dining and other activities such as horseback riding and trekking.
Itata Valley
The Itata Valley itinerary includes visits to wineries such as Casanueva, Del Alba, Tierra de Arrau, Casas de Giner, among others. Here you will learn about the wine production process from the harvest –depending on the season– and taste varieties such as Cabernet Sauvignon, Carménère, Merlot, Tintórera, Semillón, Chardonnay and Sauvignon Blanc. Of course, served together with the local cuisine of the Ñuble Region.

Bíobío Valley
The Bíobío Valley has a particular microclimate, perfect for growing shorter-cycle red and white varieties for wine tours in Chile. Some of the activities that can be enjoyed in this valley include classic horseback and bicycle excursions, and winery visits such as Agustinos and Veranda, as well as boat rides along the Bureo River and lunches served with special local wines.
Malleco Valley
This is Chile's southernmost winemaking area, with producers in the districts of Angol, Lumaco, Traiguén, Ercilla, Victoria, Purén, among others, featuring varieties such as Pinot Noir, Chardonnay and Sauvignon Blanc. The wonderful landscapes of the Araucanía region, brimming with reddish volcanic soils and low temperatures, are ideal for the production of distinctive wines. Some of the region's most outstanding vineyards are Aquitania, Los Colonos, Viñedos de La Araucanía and Wiliam Févre.
---
Articles that may interest you