THE BEST PLACES IN CHILE FOR FLY FISHING
By: Chile Travel - 28 August, 2021

Carretera Austral, the Southern Highway, a Paradise for Fly Fishing
Did you know that the south of Chile has incredible places for fly-fishing? It doesn't matter whether you're an expert or if it's your first time trying, the Southern Highway in Chile (Carretera Austral) is the best destination if you're looking for fish-filled rivers and lakes. Starting in the city of Puerto Montt, the highway's 1,200 km (745 mi) passes through numerous national parks, that not only stand out for the beauty of their natural surroundings, but also for the clarity of their turquoise waters.
We invite you to continue reading this article in order to be able to organize your journey to the Puelo, Futaleufú, Petrohué and Palena rivers. Here you will find the ideal conditions to practice this fascinating and ancestral sport, and also be surrounded by wonderful native forests. Learn more about these incredible destinations in this article!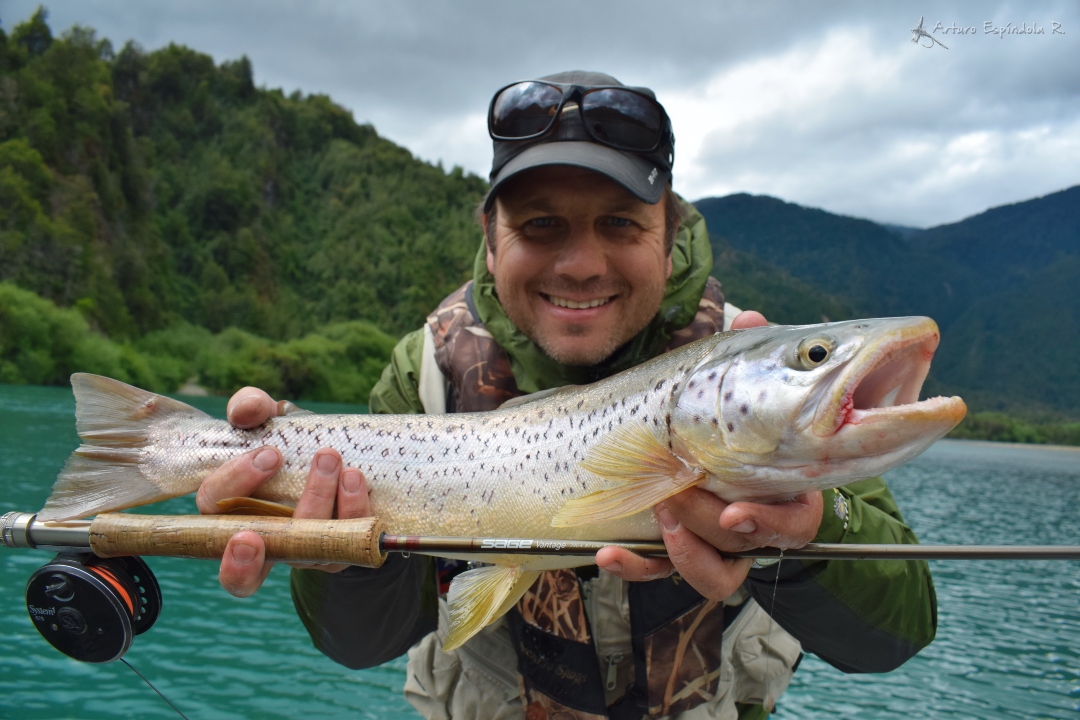 Photo: Arturo Espíndola R. / IG: @espindolarojas
Difference between fly-fishing and traditional fishing
Before we start our tour, do you know how fly-fishing and traditional fishing are different? Although these two sports are similar and their objective is the same, they are very different indeed. As bait, traditional fishing uses worms, breadcrumbs and artificial decoys that emulate other fish. The fishing rod and reel can cast these baits a long distance, using a weight at the end of a thin, transparent line.
On the other hand, in fly-fishing, the bait resembles an insect. It is made of thread and it's nearly weightless. The rod, reel and line are very different to those used in traditional fishing, given that these are extremely light in order to constantly be waving it, simulating the flight of an insect over the water.
Now that you know which one to choose, let's review the three must-go's of Chile's Carretera Austral.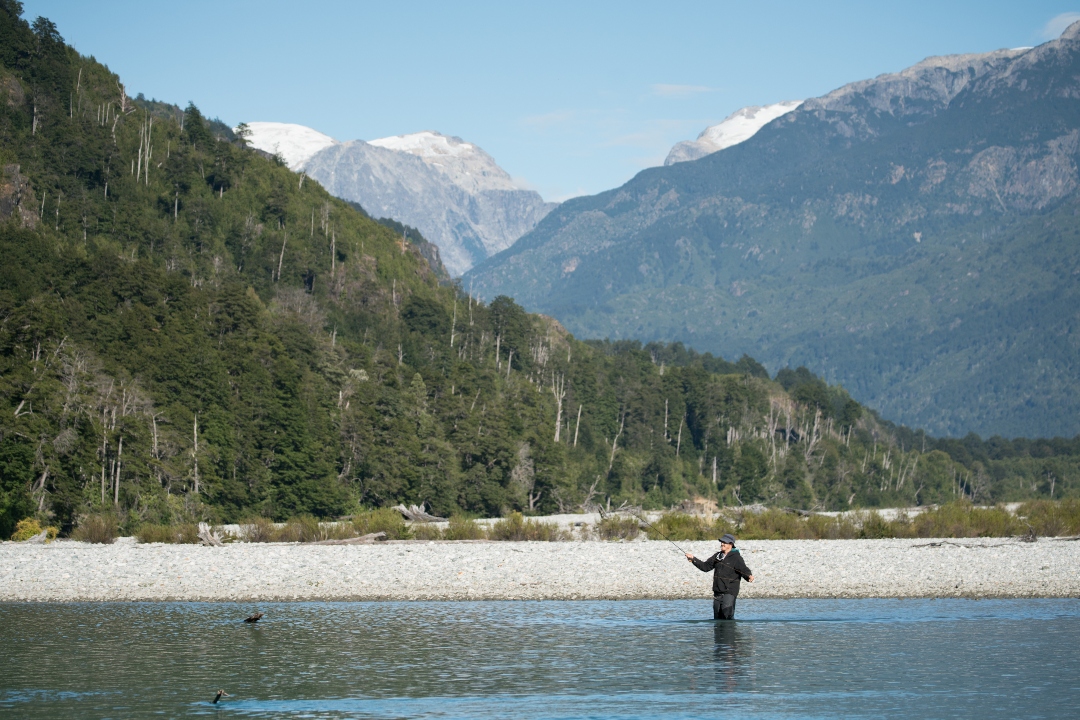 Puelo River, home of great big salmons
The first place we invite you to visit is the cold waters of Puelo River, mainly the area around Tagua Tagua Lake, where you can delight yourself in a paradise for fly-fishing. It is, without a doubt, spectacular. Can you imagine being able to grab a Chinook, Coho or Atlantic salmon even if for a moment? Some of the stories that fly-fishing lovers tell us is that they have caught specimens of up to 32 kilos (70 pounds) in this river. And, if you are lucky, the rich variety of rainbow and brown trout that swim in these waters can surprise you with catches of up to 5 kg (11 lbs.).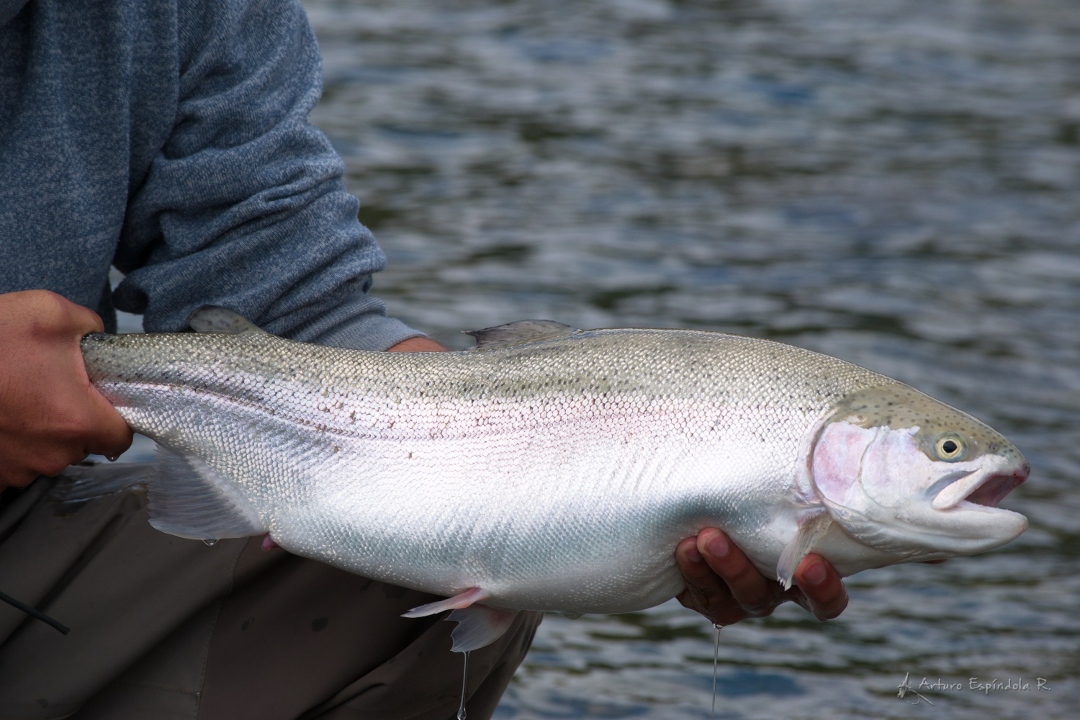 Photo: Arturo Espíndola R. / IG: @espindolarojas
Puelo River has its source inside the Lago Puelo National Park, in Argentina. However, its 120 km journey crosses the Carretera Austral and flows into the heart of Reloncaví, in Chile.
If your goal is to catch trout, the best time to visit Puelo is undoubtedly between November and December, but, if you are passionate about salmon, we recommend coming between February and April.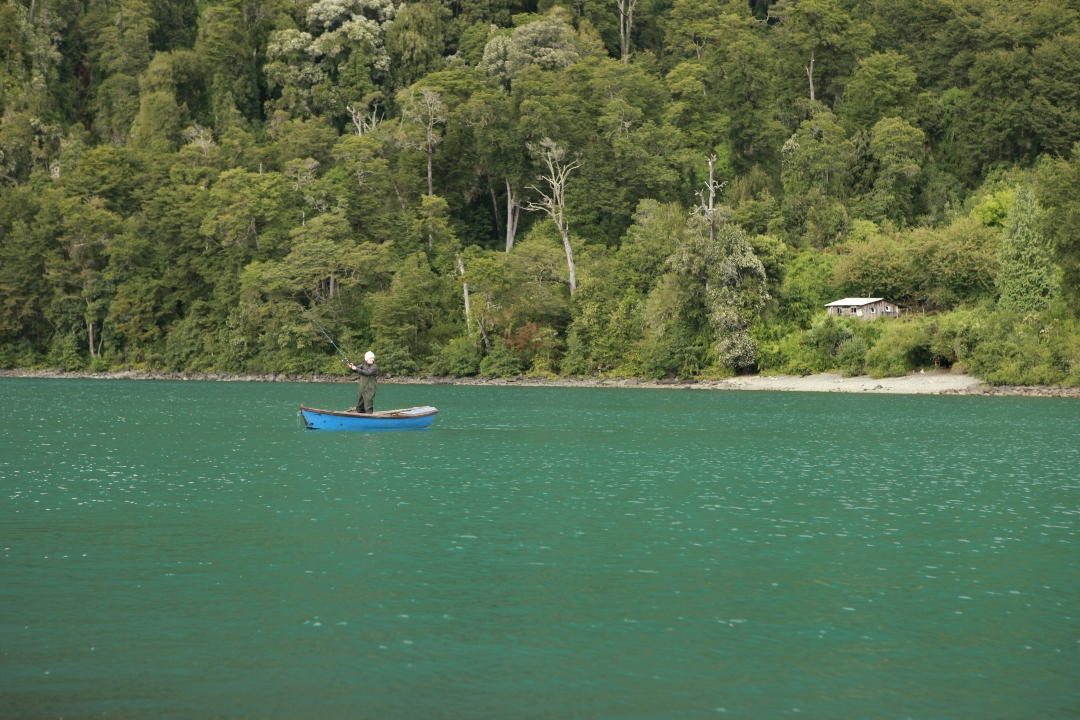 Petrohué River, An Unforgettable 20 km Adventure
Our journey continues on to Puerto Varas, in order to visit the source of the Petrohué River, where the waters of the Todos los Santos Lake begins a wild ride of approximately 36 km south, finally arriving to the mouth of Reloncaví, in the Ralún sector.
Located in one of the most beautiful areas of Chile's Northern Patagonia, and despite its proximity to major cities like Puerto Varas and Ensenada, the Petrohué River is greatly closed off with a high degree of water tightness for access to its banks.
This level of natural protection has allowed the river not only to conserve the quality of its waters, but also to preserve an important population of trout and salmon, both of which are of great sporting value to those who practice fly-fishing.
The most demanding fishermen and fisherwomen consider this 20 km river as one of the most important, and that shouldn't be missed. To travel in peace and quiet along this river, we suggest that you do it by boat, so you can approach the most hidden and promising sectors of the river.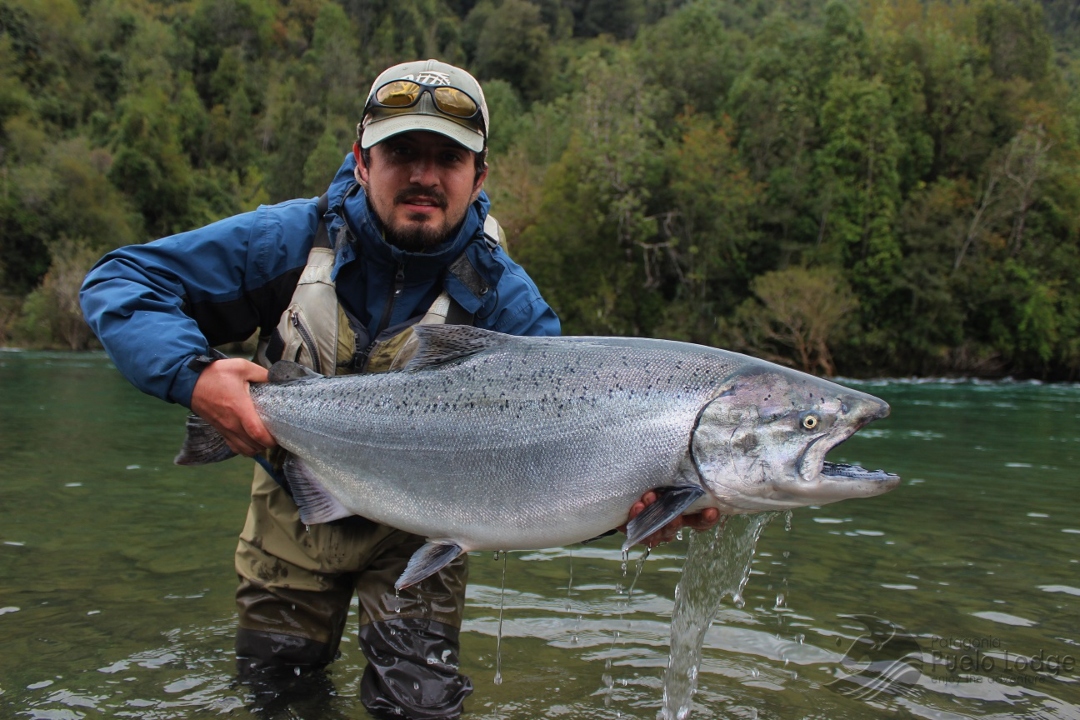 Photo: Arturo Espíndola R. / IG: @espindolarojas
Futaleufú River and Espolón Lake, two idyllic places for fly-fishing
Would you like to know where else you could catch salmon and trout?  The Futaleufú River and Espolón Lake are perfect for this. Between March and April you will find a large amount of salmon, and from November to April the population of trout increases.
Futaleufú means "Big River" in Mapuche language, a name that is completely accurate because of its abundant flow all year round. Born in the south of Argentina, it flows into Lake Yelcho in Chile, where then it continues its journey until it meets the Pacific Ocean. The river is home to a great diversity of fish, making it one of the best rivers in Chile for fly-fishing and one of the highlights of this route.  Salmon, rainbow and brown trout, silversides, puyenes, fontinalis trout, perch and peladillas are some of the most common species in this body of water.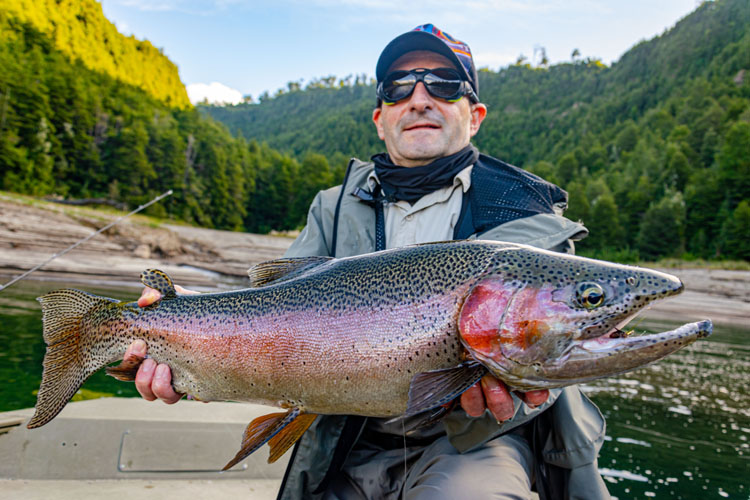 Photo: http://www.lavaguada.cl / donation by Ricardo Ordoñez Diaz
And if you still want to continue on your journey, Espolón Lake is the next place to go. Located only 9 km from the town of Futaleufú, on the way to Chaitén, this natural paradise of 178 hectares is a place that has an untamed nature that is simply stunning. No matter if you are a beginner or an expert, the abundance of rainbow and brown trout in the lake will surely allow you take a picture with your catch.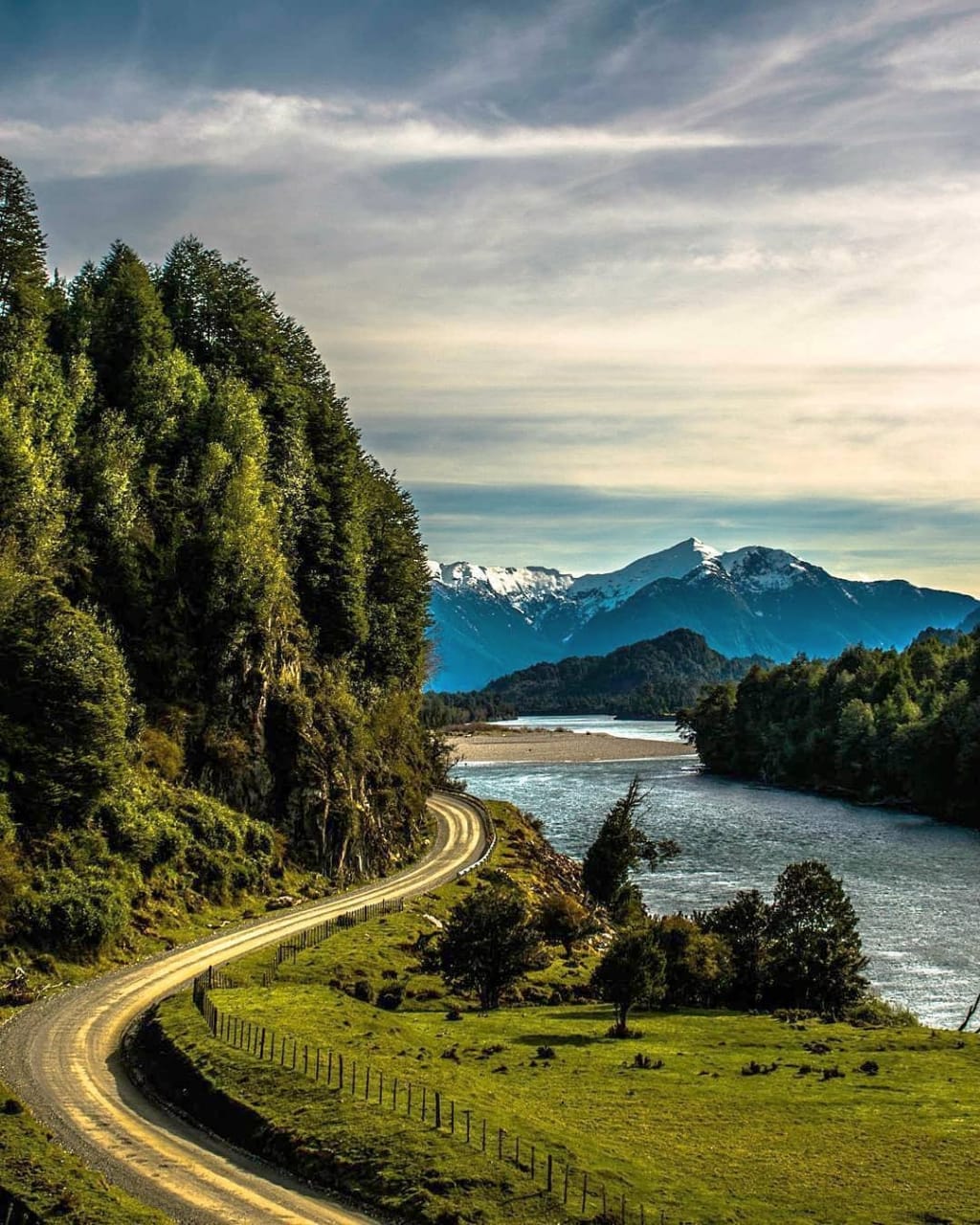 Photo: Hernán Lara / IG: @hernan.lara
Palena River and its famous trout
Finally, our fly-fishing tour ends in Palena River, a destination famous for being one of the best places in the world to catch trout. Take a boat or just stay on the shore, and either way you will enjoy an incredible day of fishing.
Unlike other rivers in our country that offer great trout, the Palena is well known for its rainbow trout and Chinook salmon. In addition, it flows through a valley with an amazingly diverse natural environment to frame all your beautiful pictures.
Once you have finished in Palena, we suggest that you continue your fishing trip to Puerto Ramirez, a tourist destination that few people know about, and a great spot for fishing.
In this small town you can find lodging services to suit everyone, such as, cabins, camping sites, family lodgings and B&B's.
So, now you know!  Immerse yourself in the best rivers along the Carretera Austral in Chile and live an unforgettable experience!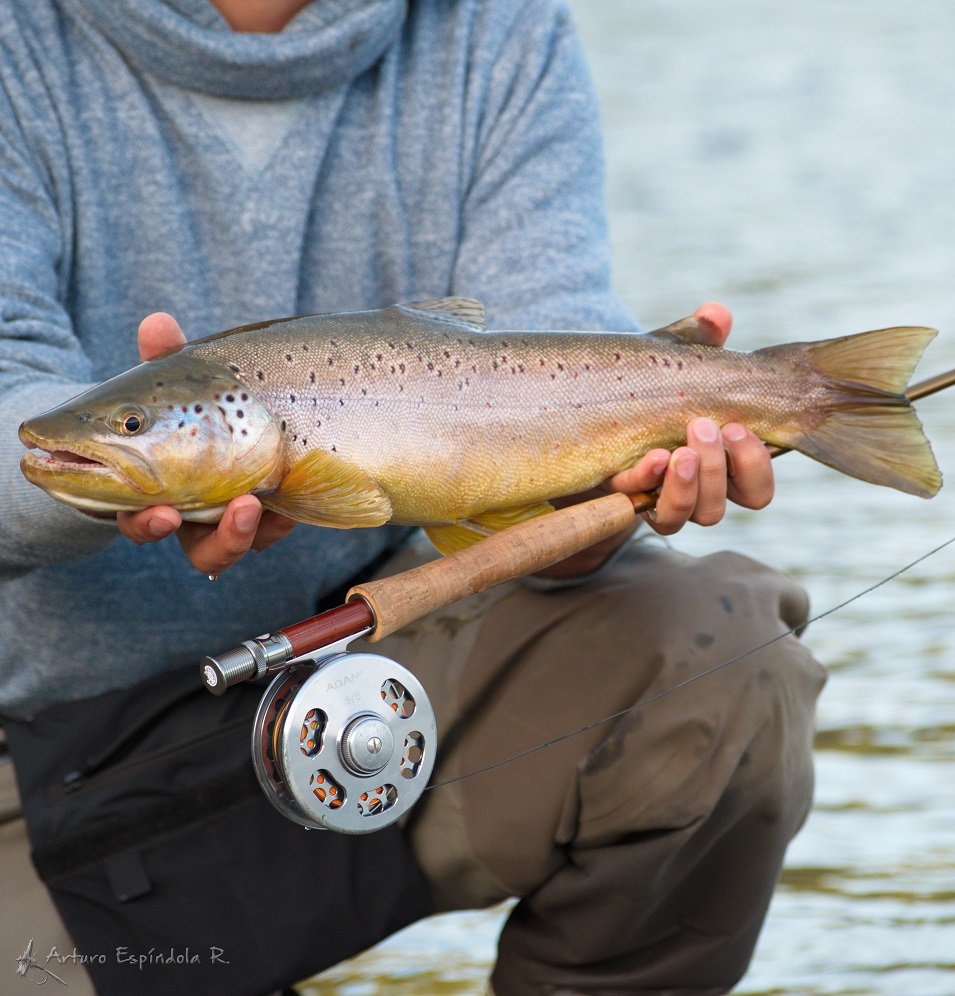 Photo: Arturo Espíndola R. / IG: @espindolarojas
---
Articles that may interest you