Red Lagoon: a must-see enigma from the north of Chile
By: Hernan Claro - 20 September, 2023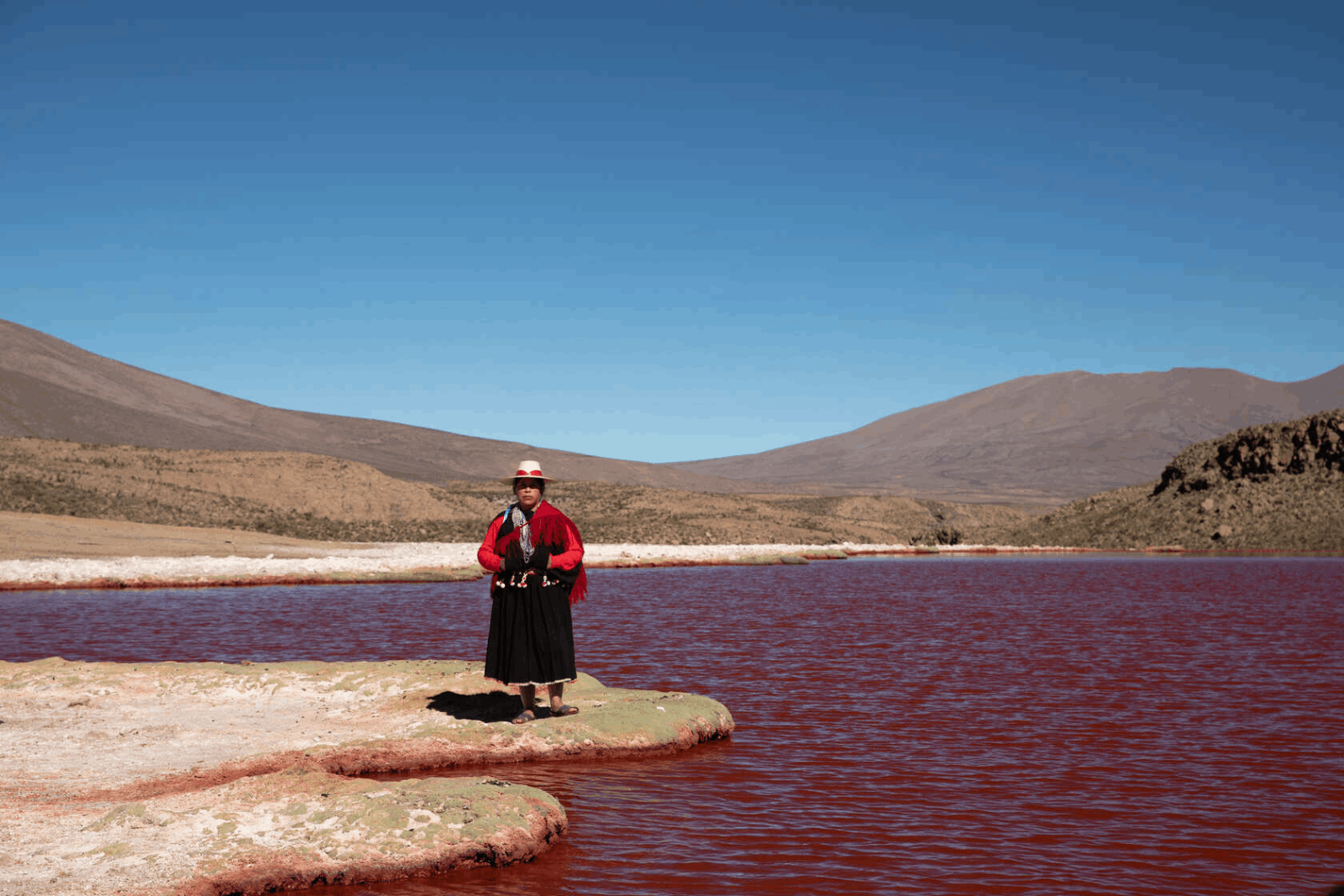 Located at 3,700 meters above sea level (m.a.s.l.), the Red Lagoon is a true treasure in the north of Chile. Here we will tell you about its mysterious origin and how to get to this oil painting done by hand by mother nature.
The Chilean Altiplano has a series of mysteries for those who adventure to explore it. The area is characterized by its imposing altitude and stunning landscapes, housing archeological vestiges that narrate its ancestral history.
The Red Lagoon is located here, a place full of enigma that along with the Green and Yellow Lagoons make up the Amuyo Lagoons, also called Paricota, Parinacota or Coloradas.
How to get to the Red Lagoon
Although the Red Lagoon is located in the Camarones province, in the Arica and Parinacota Region, to access it you have to arrive through the village of Camiña, in the Tarapacá Region.
Camiña is located 147 kilometers from Iquique. You can get there by bus or by private car and you must take Ruta 5 Norte and then take Ruta A-45.
Once you are in the village, to get to the lagoon you must take the complicated Ruta A-41. It is a path of many loose rocks, curves, and jumps. For this reason, it should be done in a 4×4 type of vehicle.
We recommend you hire a tourist guide registered with Sernatur who knows the difficulties of the hills and ravines in the area. Some tours to the Red Lagoon start in Iquique and last about 10 hours, while others start directly from Camiña and last around 5 hours.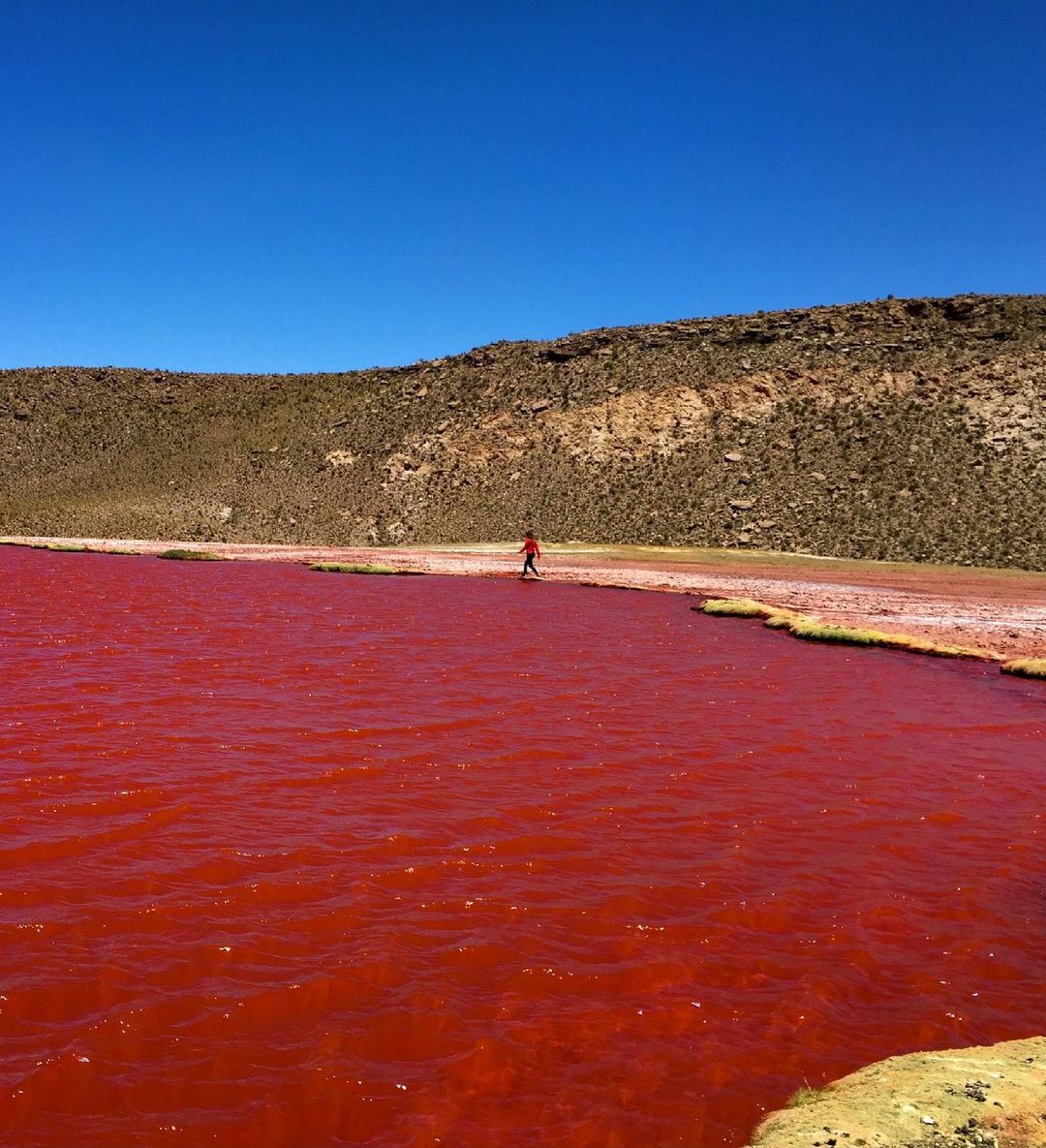 Photo: @alisson_roco.
The enigma of the Red Lagoon
Although there is no conclusive explanation, scientific research suggests that the red color of the lagoon is due to the presence of sediments and the Chlamynodephris microalgae. It is also estimated that its temperature varies between 40ºC to 50ºC.
The Red Lagoon has motivated different legends. According to a local story, some time ago an Aymara community settled near the lagoon not knowing that it belonged to the devil, who had dyed it red as a warning.
According to the story, the community died after drinking the water, contributing to making the color of the lagoon even redder.
The mysteries of the north of Chile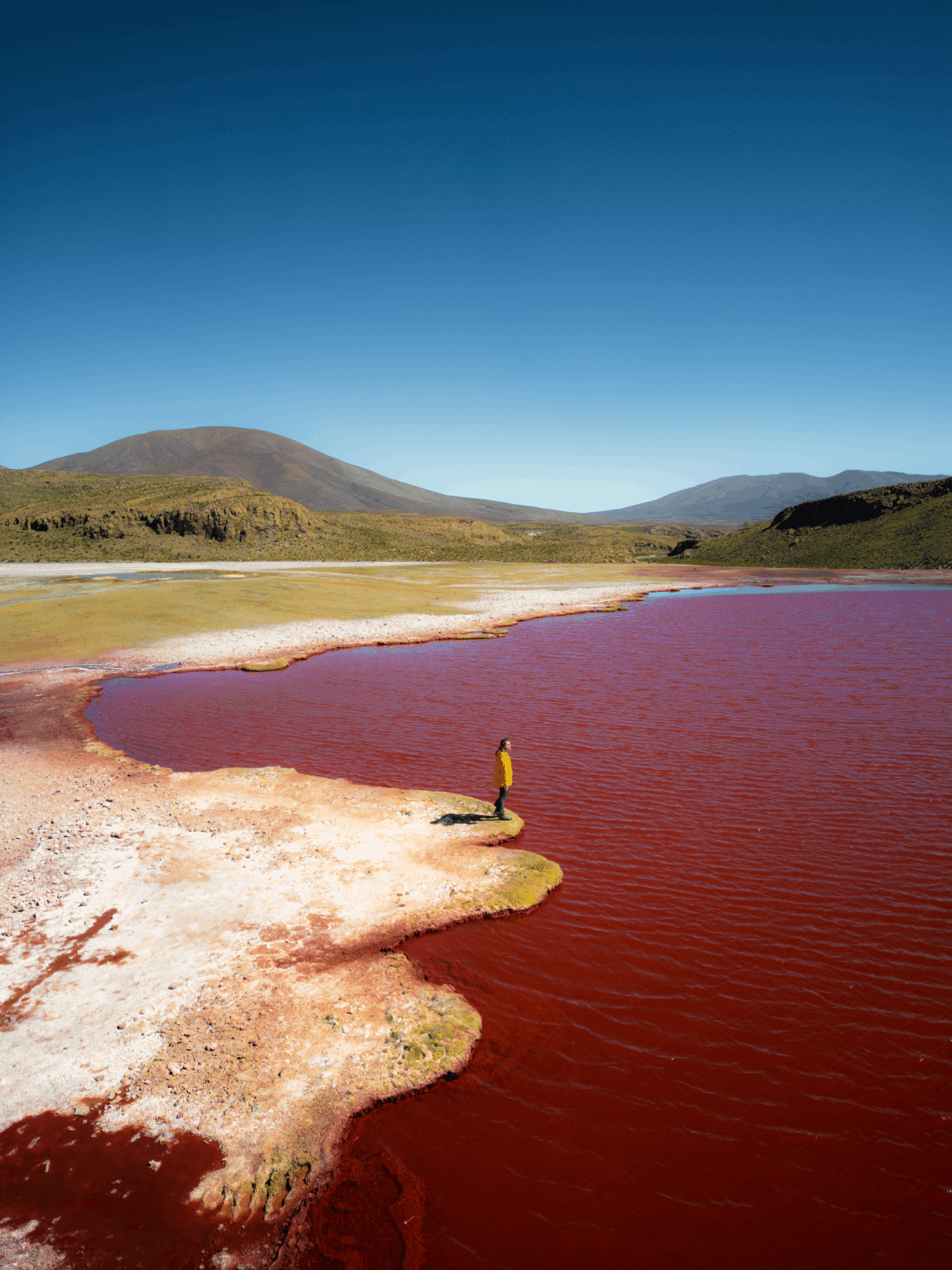 Photo: Victoria Ansaldo.
Among the different attractions in Camiña is its Baroque church, and its religious festivities, like the Machaq Mara or Aymara New Year. Moreover, don't miss the chance to try the food in the area, such as goat cheese, kneaded bread, and papas bravas.
You can also visit the petroglyphs and pictographs of Chillaiza, whose winged men, suns, and other figures were made by pre-Hispanic cultures.
It is important that you prepare properly for the trip and take the necessary precautions for the Altiplano altitude. Bring proper clothing, comfortable shoes, sunglasses, a hat, and wear sunscreen.
---
Articles that may interest you