7 Hot Springs where you can disconnect from everything
By: Hernan Claro - 19 April, 2023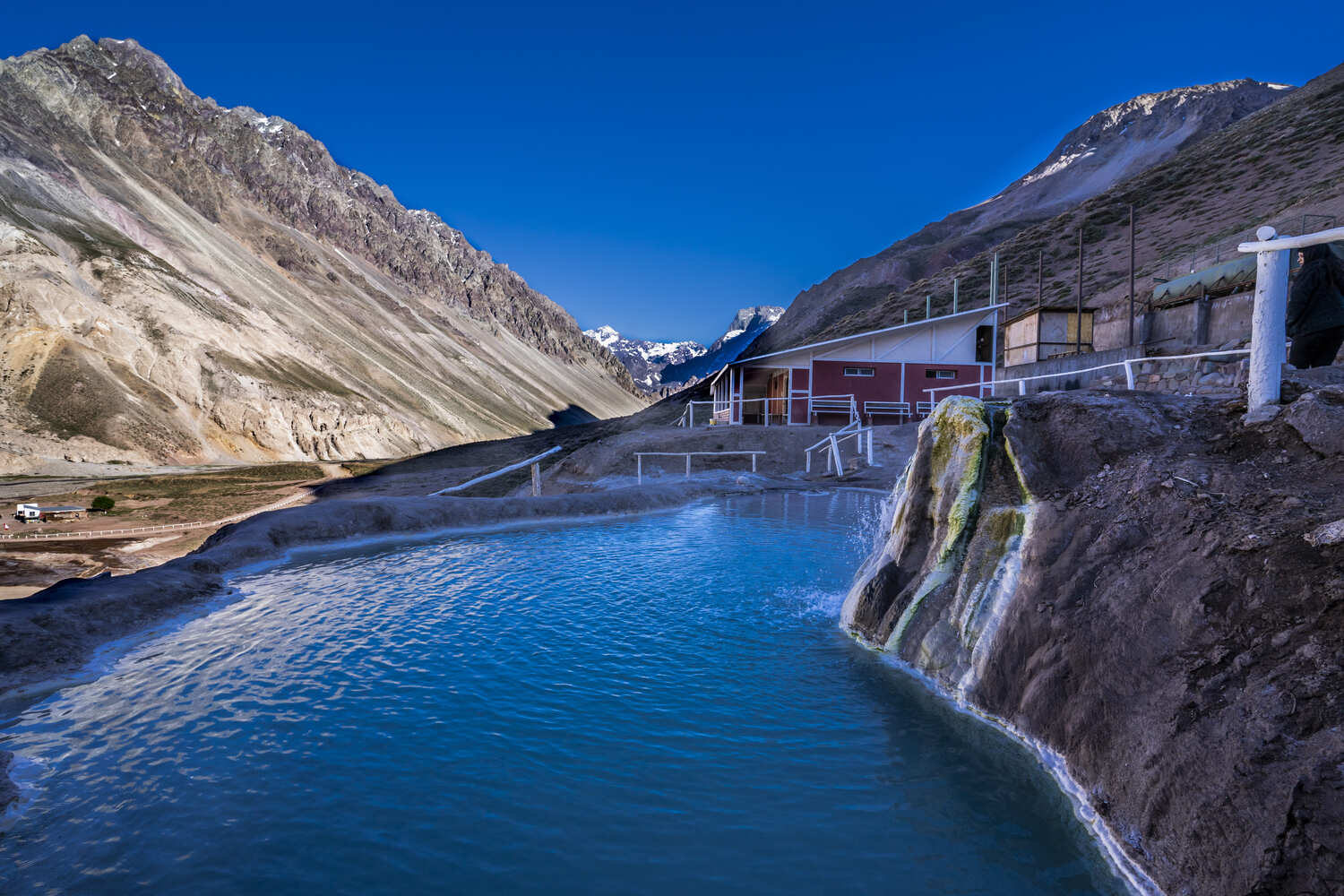 Chile offers visitors many destinations that are perfect for resting and relaxing. If you are planning to travel to Chile, or simply would like to enjoy a healthy dose of peace and quiet, Chile Travel has just the thing for you: a list of the best hot springs and natural thermal baths around the country.
Arica – Polloquere Hot Springs
The Polloquere hot springs is a natural safe haven. @arica_turismo
In the extreme north of Chile, there is a wonderful place to recharge your batteries completely, called the Polloquere Hot Springs. Three hours from Putre, on the southern hillside of the majestic Surire Salt Flat, a "pool" of rich mineral water allows visitors to immerse themselves in the hot springs that soothe body and soul. At the same time, the surrounding environment takes care of relaxing the mind. A remote place, the beauty of nature surrounding you, and hot waters to soak in equals a perfect moment.
Coquimbo – Las Hediondas Hot Springs
Ponds of natural waters, full of minerals that spring from the ground and are quite far from civilization, make Las Hediondas a true sanctuary of nature and wellness. Tourists seeking to fully disconnect from everything come to this place on a journey of recovery and health. Soaking in these waters is nature's cure, and then you emerge completely renewed.
To get there, take the international route CH-41 going from La Serena to Elqui Valley. This paradise is only 20 minutes from Chilean customs (border with Argentina).
Metropolitan Region – Baños Colina Hot Springs
These Hot Springs are perfect for resting, nestled in the mountains. @disfruta_santiago
Disconnect from the city and connect with the sky at Baños Colina in central Chile. Imagine dipping into steamy pools of water that spring naturally from the ground along the Colina River basin, nestled in the Andes Mountains and only 109 kilometers (68 miles) from Santiago. These waters are naturally heated by the activity of the San José Volcano, and enriched with healing minerals, making them perfect for recovering and resting while gazing at the sky.
O'Higgins – Termas del Flaco Hot Springs
Enjoy the views and delight yourself with the waters. @pilar_dhanpreet
Termas del Flaco Hot Springs are up in the Andes, at 1,750 meters (5740 ft) above sea level, in the Region of O'Higgins, and 75 kilometers (46 miles) east of San Fernando. There is a hotel with the same name for a longer stay at these hot springs with highly beneficial minerals, such as lithium. When you combine the medicinal qualities of the waters with the perfect amount of heat, the surrounding scenery, and the environment, you are guaranteed to relax and unwind.
Ñuble Region – Chillán Hotel and Hot Springs
The weather goes from hot to cold during the year, but the waters are always perfectly warm. @swimlinepiscinas
Leave your worries behind and immerse yourself in an experience completely designed to help you connect with nature and disconnect from the stress of the everyday hustle and bustle. Chillán Hotel and Hot Springs is located in the foothills of the Andes and surrounded by native forests. It's the perfect option for a long weekend so that you can return to your everyday life renewed and energized.
Los Ríos Region – Termas Geométricas Hot Springs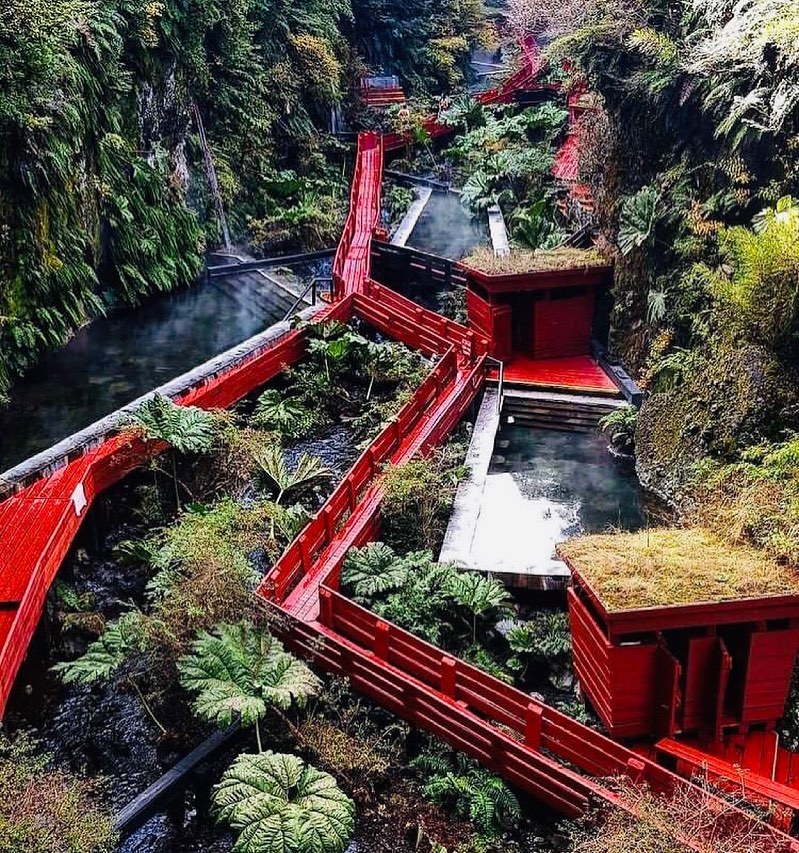 An incredible view of termas geométricas in Coñaripe. Hot Springs like none other. @geoterraviajes.cl
Termas Geométricas has over 60 pools of pure spring water, gushing from the ground at temperatures as high as 80°C (176°F) and pouring downhill in between the walls of a ravine, covered in vegetation, in the middle of native forests in the Villarrica National Park in southern Chile.
Between Coñaripe and Pucón, at kilometer 16 of the park's road, you will reach this magnificent place called Geometric because it is a work of structural art designed by Germán de Sol, that allows visitors to walk along the gorge and dip into its many pools, in a way that is both functional and beautiful. These hot springs look as taken straight out of a fairy tale.
Aysén – Ventisquero Hot Springs
The Termas del Ventisquero hot springs are a true paradise on earth. @termasventisquero
If you have reached the Southern Highway (Carretera Austral), a stop at the Ventisquero Hot Springs is a Must! It is a journey so far and remote that you literally arrive to "The End of the World". Termas del Ventisquero is an oasis located directly in front of a fjord, making you feel all the power of nature while enjoying the relaxation of the thermal baths. They are perfect for a weekend getaway, or to renew your energy and continue your trip further to the extreme south of Chile.
---
Articles that may interest you