¡5 unmissable pictures of Chile! The places you must photograph in Autumn
By: Hernan Claro - 22 March, 2023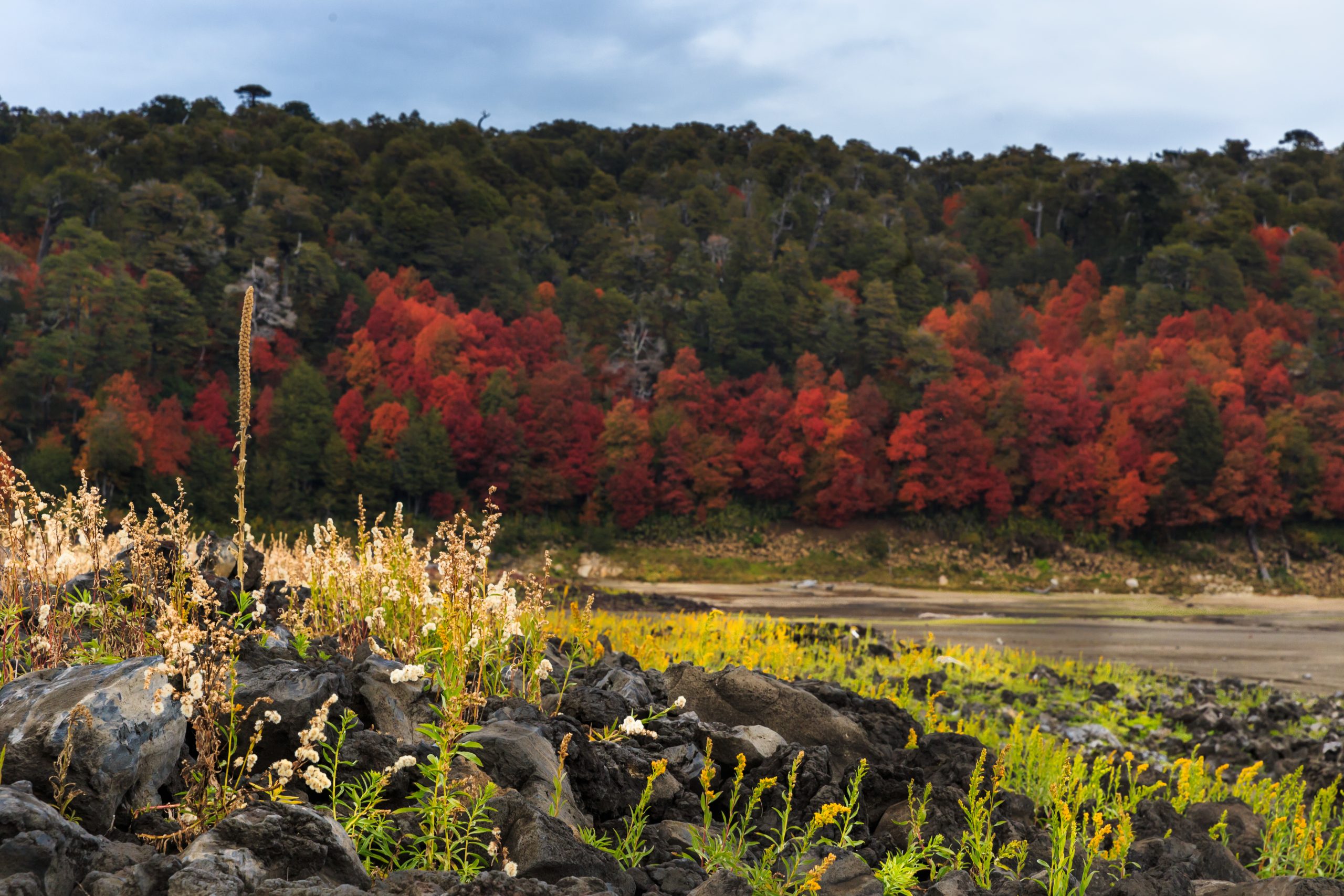 Every season is unique for different reasons and for the same reason, the images that could be captured in different seasons have something, but without a doubt getting an autumn photograph in Chile is a picture for a lifetime.
It may be the trees' foliage, the humidity, or the reduction of tourists, but autumn definitely has something special to show and in Chile Travel we are going to tell you where to go to look for it.
1. Conguillío
Forest, lake, and mountain mixed in the landscape of Conguillío. @delainiko
In the Araucanía area is the Conguillío National Park, a place that has mountains, clear skies, emerald bodies of water, and forest to create a truly privileged landscape to photograph.
Moreover, if you are looking to photograph fauna in their habitat, here you can find pumas, guiñas, black woodpeckers, little monkeys, and Darwin frogs.
If you are a photographer of natural landscapes or wildlife, this is a destination that cannot be missing on your trip, along with the different activities that you can experience in this place.
2. Huerquehue
Leaves of all colors are spread out in Huerquehue. @bgarces_photography
The Huerquehue National Park is also in the Araucanía area and is one of the best protected wild places in the country.
With an area of 12,500 hectares, this foothills area has great diversity and leafiness of trees, among which coigüe, roble, and lenga stand out, of course, in addition to the Chilean araucaria.
As well as the beautiful autumn pictures because of the trees' foliage, you also can find foxes, pudu, woodpeckers, and eaglets, creating an ecosystem that has so much to offer to photography, from the visual diversity of flora to the unique fauna in this part of Chile.
3. Valle las Trancas
The Valle Las Trancas fills with color in autumn. @mostremoschile
At the foot of the Andes Mountains, you can find this native forest that hides heights, waterfalls, and beautiful nature trails where you can find unique perspectives to photograph from.
In Autumn you can enjoy Nevados de Chillán, the hot springs, the Laguna de Huemul, and the Ñuble National Reserve, one of the most splendid places to photograph in Chile.
Several of these places require trekking to get there, and at each step of the trail, you will have the opportunity to take a different picture with you, of course without mentioning the beautiful images that you will capture once you arrive at your destination.
4. Malalcahuello
The sky opens facing the Malalcahuello vegetation. @skinnymountain.1
In every season of the year, the vegetation, the lagoons, and the mountainous landscape that Malalcahuello offers are worthy of being photographed.
With ancient trees and great bodies of water, this volcanic geography has much to offer for trekking, skiing, mountaineering, and of course photograph lovers.
Declared a reserve since 1931 and with 31,260 hectares of flora and native forests, it is expressed in a vivid way all around the land. This is also a magical place in our country that you should visit in autumn to obtain the best pictures.
5. Torres del Paine
The Cuernos del Paine are reflected in the Lago Skottsberg. @huellas_por_chile
A place renowned in the whole world which can be visited all year round and that offers a special panorama in autumn is the Torres del Paine.
This national park itself has some of the most beautiful pictures in the world. If in addition we consider the loneliness that covers it outside the on-peak season, so you have one of the most beautiful photograph opportunities.
Of course, talking about the Torres del Paine can be seen as if it were just a place, but the truth is that in this park you can find splendid pictures in:
● Lago Pehoé
● Lago Grey
● Mirador Base Torres
● Lago Nordenskjold
● Mirador Salto Grande
● Laguna Amarga
Among other viewpoints, lagoons, and simply incredible walks that you cannot miss if you want to take a perfect photograph of our country.
---
Articles that may interest you