THE BEST HOT SPRINGS IN SOUTHERN CHILE
By: Chile Travel - 28 August, 2021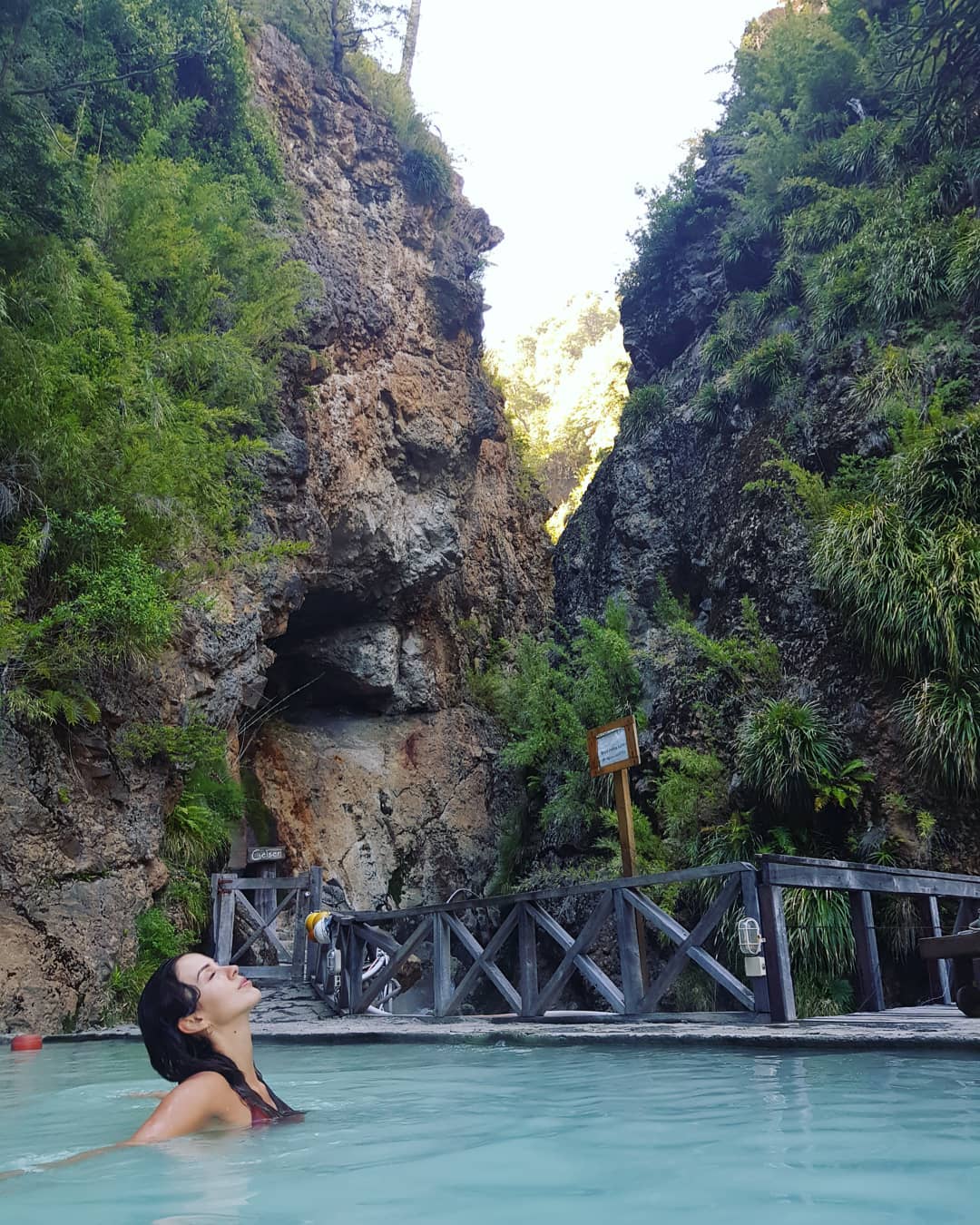 Cold weather, lush nature, thermal waters, and a travel companion, it's the perfect combination for a heavenly holiday. If you want to give yourself and your partner the best gift ever, the hot springs in southern Chile are the ideal destination. Since there are many hot springs to choose from, today we will show you the best ones.
Being located at the southern tip of the world has its benefits. The Andes mountains have gifted Chile with a chain of volcanoes throughout its territory, allowing the emergence of many great hot springs. In fact, there is an estimated 275 hot springs scattered from north to south.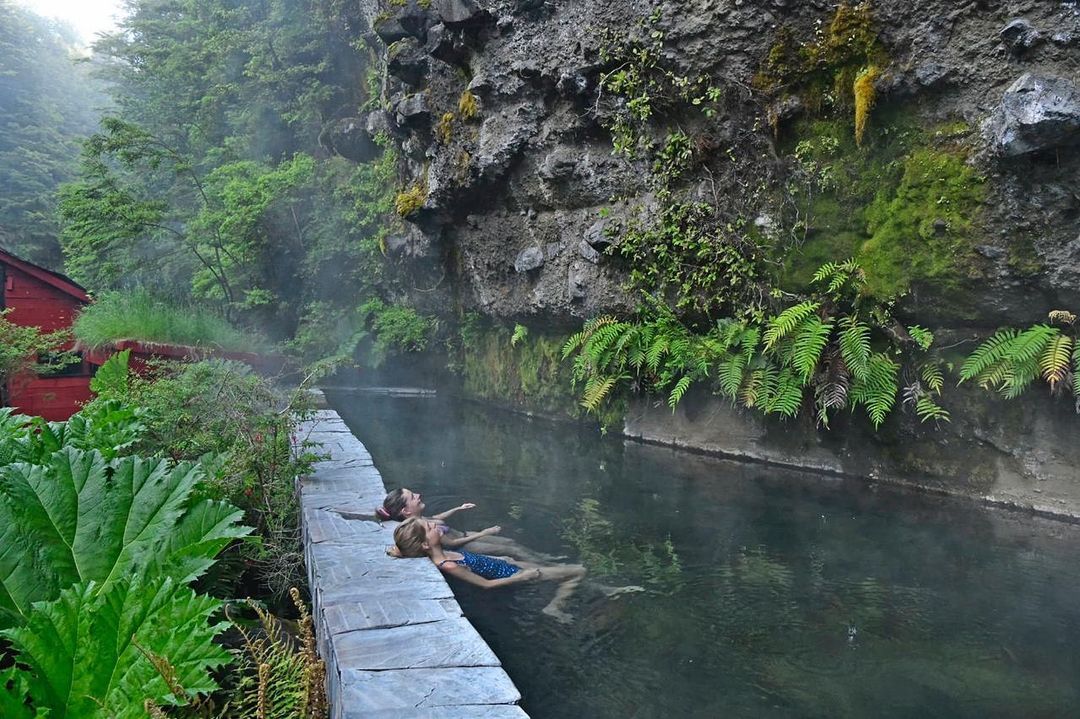 Woman enjoying thermal waters at Termas Malleco Hot Springs
Photo: [@cristina__villarroel]
On this occasion, we would like to introduce you to three hot springs in the Araucanía region that will surely make you pack your swimwear right away. Are you ready?
Termas Geométricas, The hot springs in synch with nature
Among all of the hot springs in southern Chile, this is considered one of the best in the entire country, as it was built in perfect harmony with the environment. Formerly called Termas de Cajón Negro (something like Black Gorge hot springs), they are immersed in the middle of native forests in the Villarrica National Park. Now they are called Geometric hot springs because of the particular shape of the infrastructure.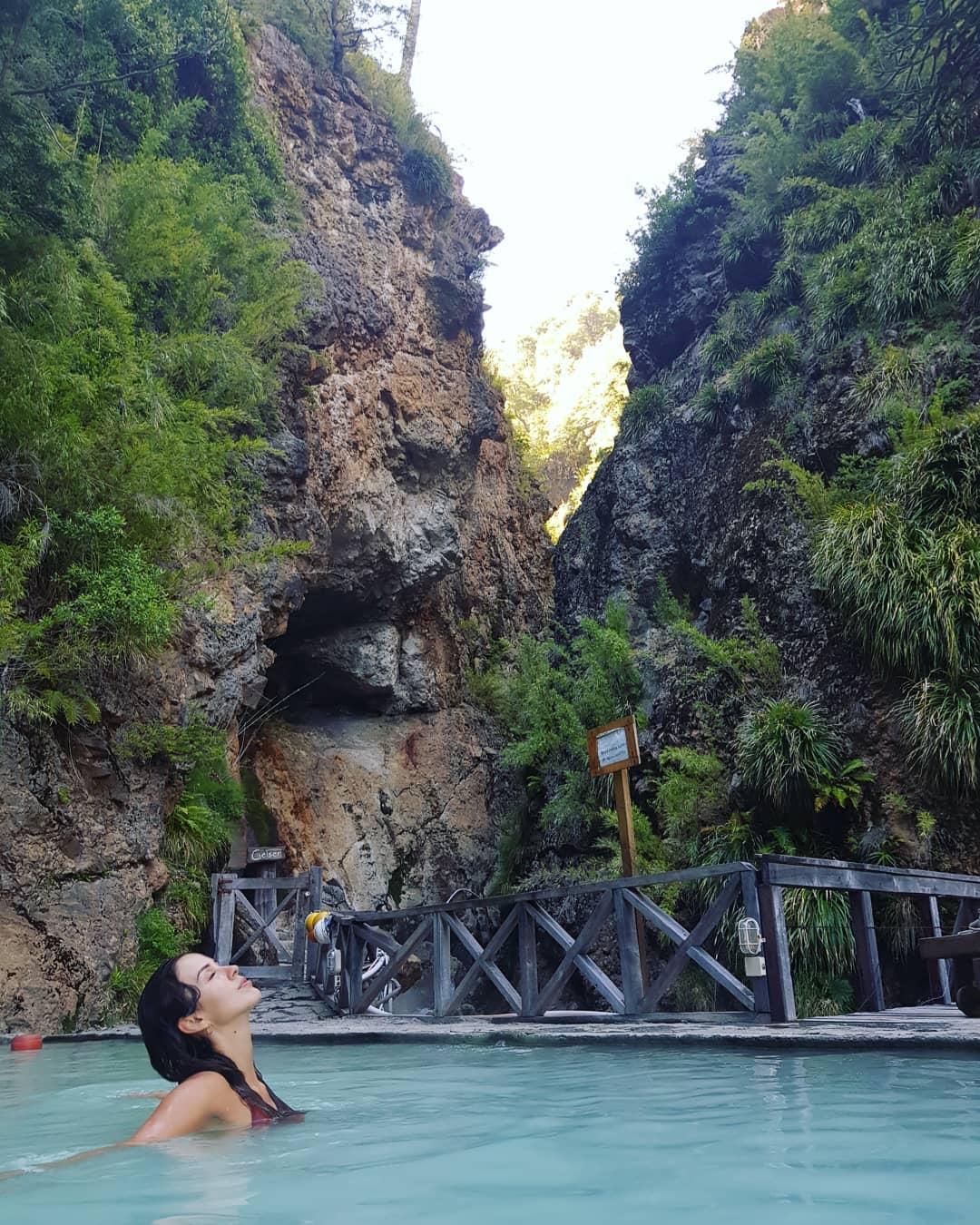 Two people enjoying the Geometricas hot springs
Photo: [@termas_geometricas]
They result from an ambitious project carried out by the architect Germán del Sol, whose goal was to achieve perfect harmony with the environment through the use of natural materials and the construction of geometric wooden walkways. One of its unique features is the intense red color of these pathways that cross the entire center and lead the way to over 60 hot spring pools that emerge naturally at 80°C.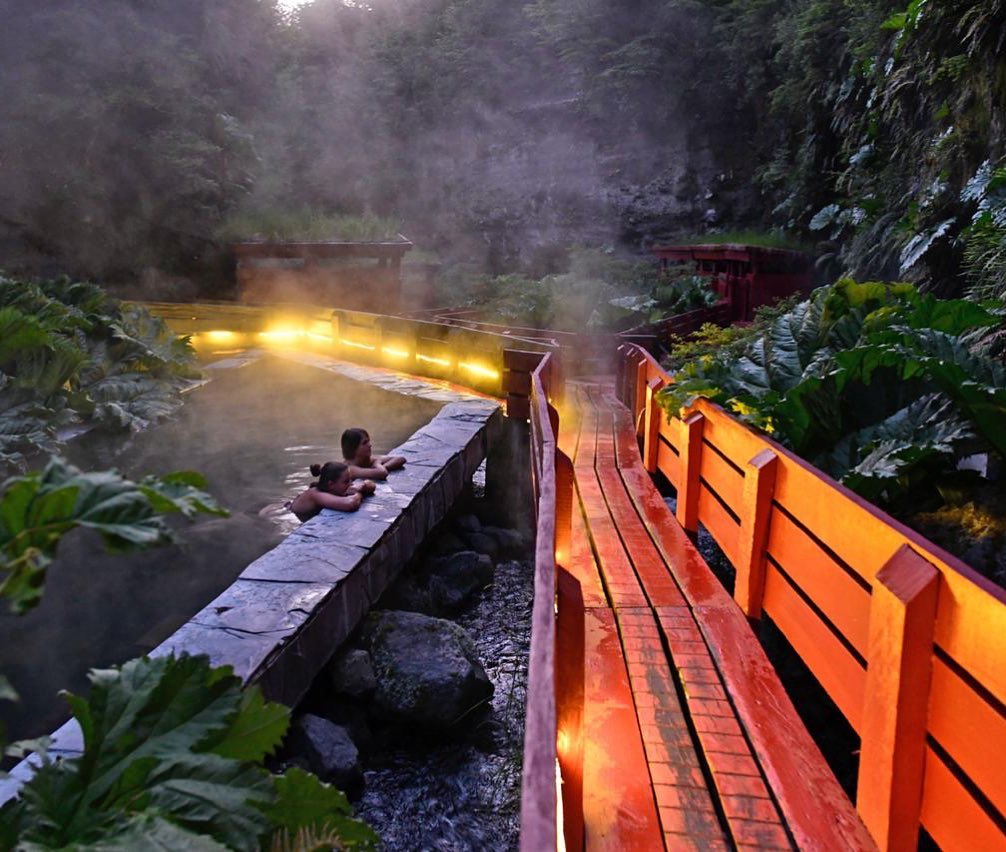 Waterfall and vegetation at the Termas Geométricas hot springs
Photo: [@fgwevar]
After enjoying an exquisite day bathing, you may desire to grab refreshments or a bow of hot soup at the cafeteria and then continue to enjoy the surroundings.
A paradise in the middle of araucaria forests
There's a great variety of hot springs in southern Chile, so there is something for everyone. All the comforts and enjoyable hot waters are entirely at your disposal at Malleco Hot Springs (formerly Termas Tolhuaca), just 2 km from the Tolhuaca National Park. A Hot Spring center in the Mountains with outdoor thermal pools, lodging service, restaurants, and an exquisite SPA, all recently remodeled.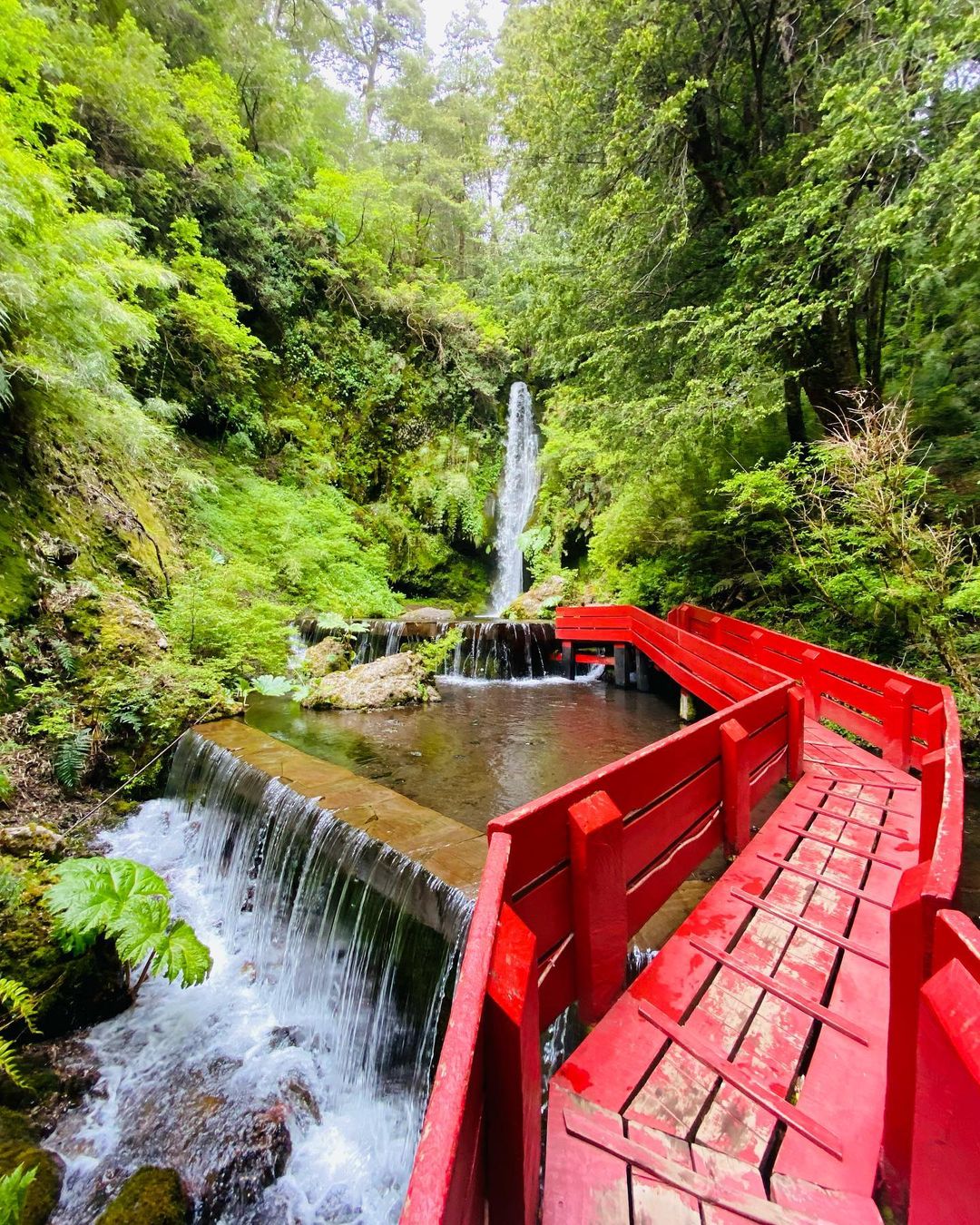 Outdoor pools at the Termas Malleco Proponer una foto màs romática
Foto: [@alphacentauri.___]
It is worth mentioning that the thermal waters here emerge at 86°C inside a grotto located at the base of the Dillo River. The most impressive thing is that eight pressurized geysers emerge from within this grotto, generating a constant curtain of steam that contrasts beautifully with the greenery of the araucarias and the white of the river currents. You have to see this spectacle with your own eyes!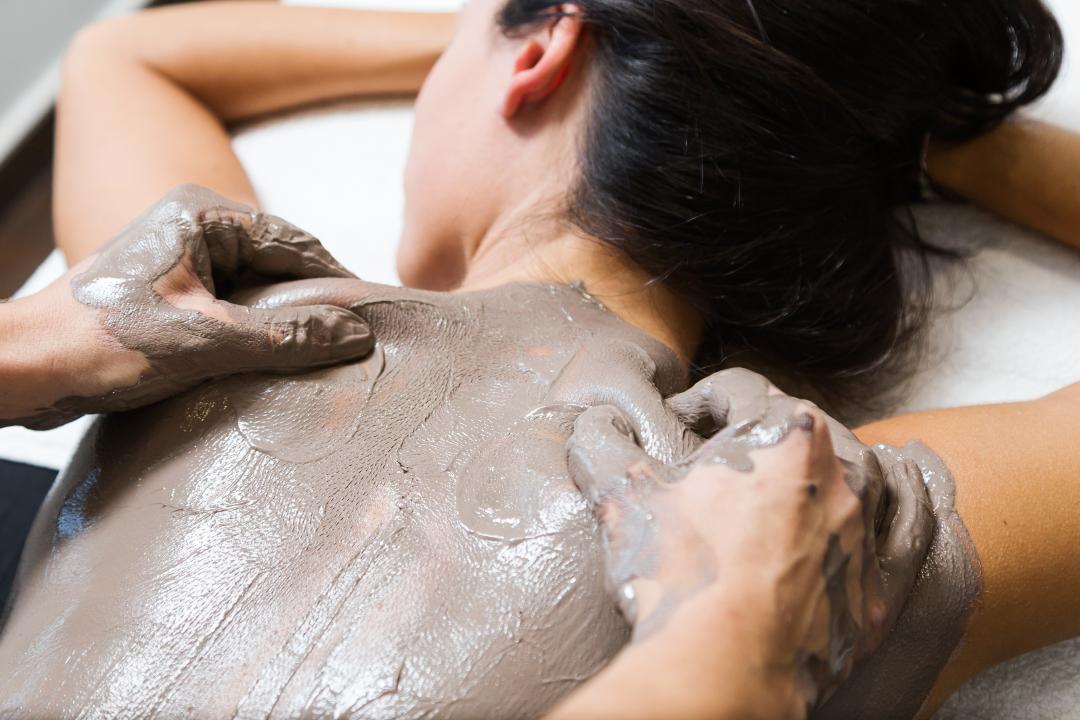 To top things off, these waters are rich in sulfur, a mineral known for cleansing the skin and promoting the creation of endorphins, the "happiness" molecules. Aren't these great excuses to go?
Exquisite Patagonian relaxation
As we come to the last of our Top Three recommendations of hot springs in southern Chile, we introduce to you: Menetúe Thermal Park. This privileged environment is located 35 km from Pucón. It has 40 hectares of native forest next to the Ancapulli Lagoon in an environment that will revitalize you from beginning to end.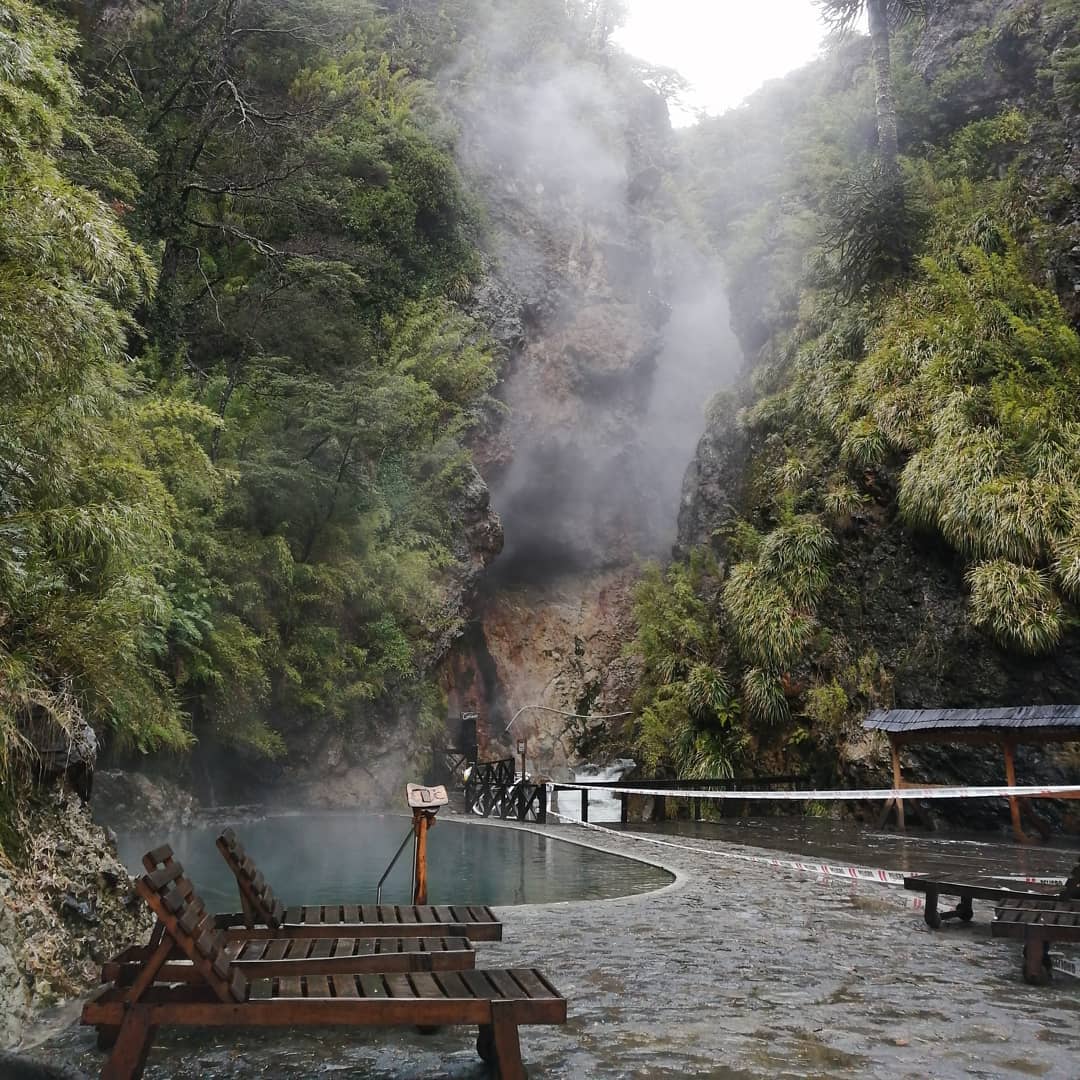 Outdoor pool and landscape.  Menetúe Thermal Park
Photo: [@patagoniaexperience.cl] Cambiaría la foto por una de baño de barro por ejemplo
This wonderful place has three indoor thermal pools, two outdoor pools, spa, mud baths (mud therapy), massage rooms, a restaurant with Mapuche delicacies and Patagonian food, all perfectly designed for you to forget all your worries and concentrate on enjoying and relaxing.
The good thing about being surrounded by a lush native forest is that there is more to do than just hot spring therapy. You can also go trekking along the nearby trails led by guides, go on bicycle rides, or participate in group hikes. Are you up for this adventure?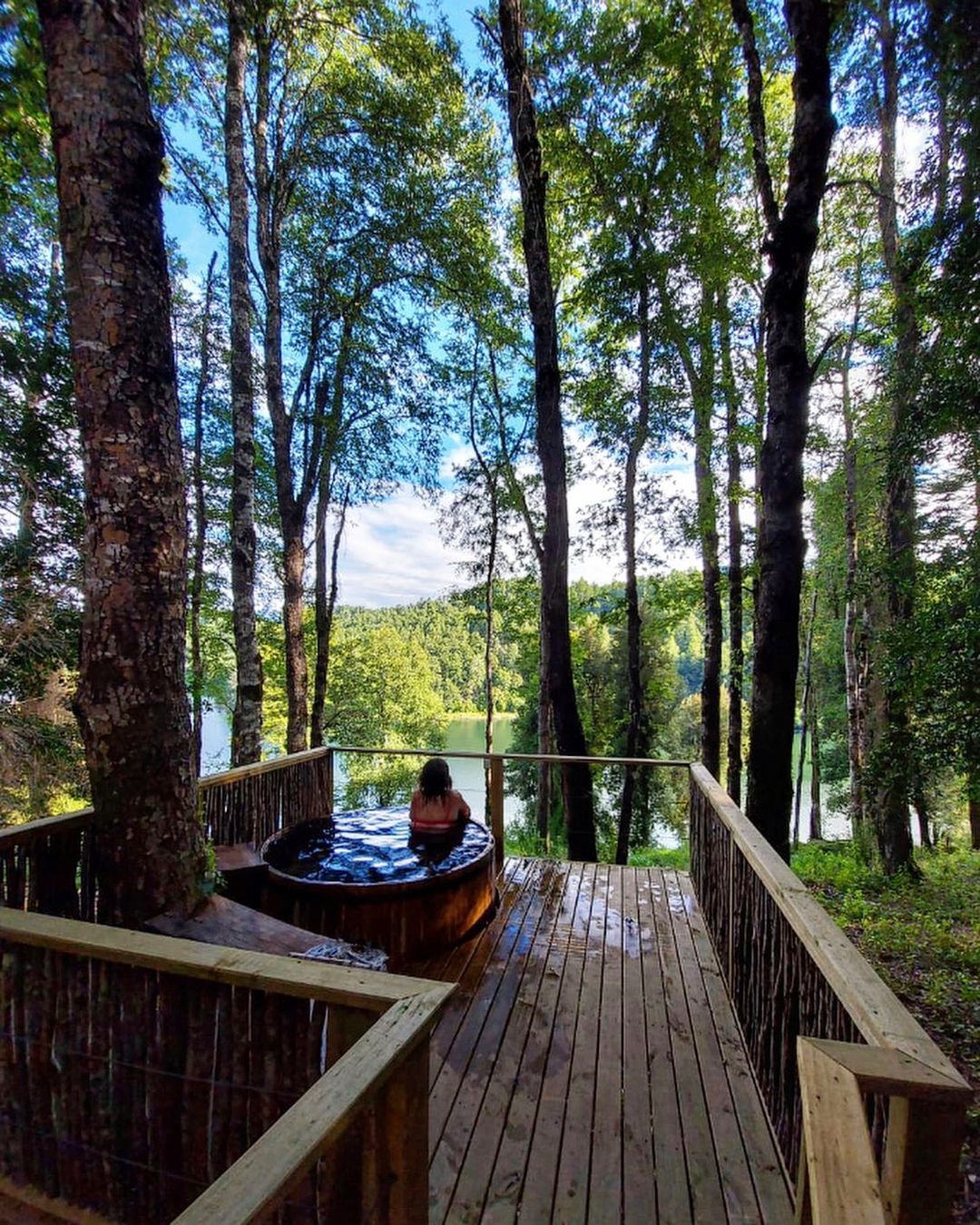 Woman taking a dip in the Menetúe hot springs surrounded by trees
Photo: [@manuaguilera]
Hopefully, you have enjoyed the tour of the best hot springs in the south of Chile, at least this virtual one and that, by now, you are more eager than ever to visit us as soon as it may be possible. We will be waiting for you, with open arms, to meet up again in the richest, most therapeutic, medicinal, and relaxing geothermal hot springs in southern Chile, to forget all the stress caused by this pandemic.
---
Articles that may interest you